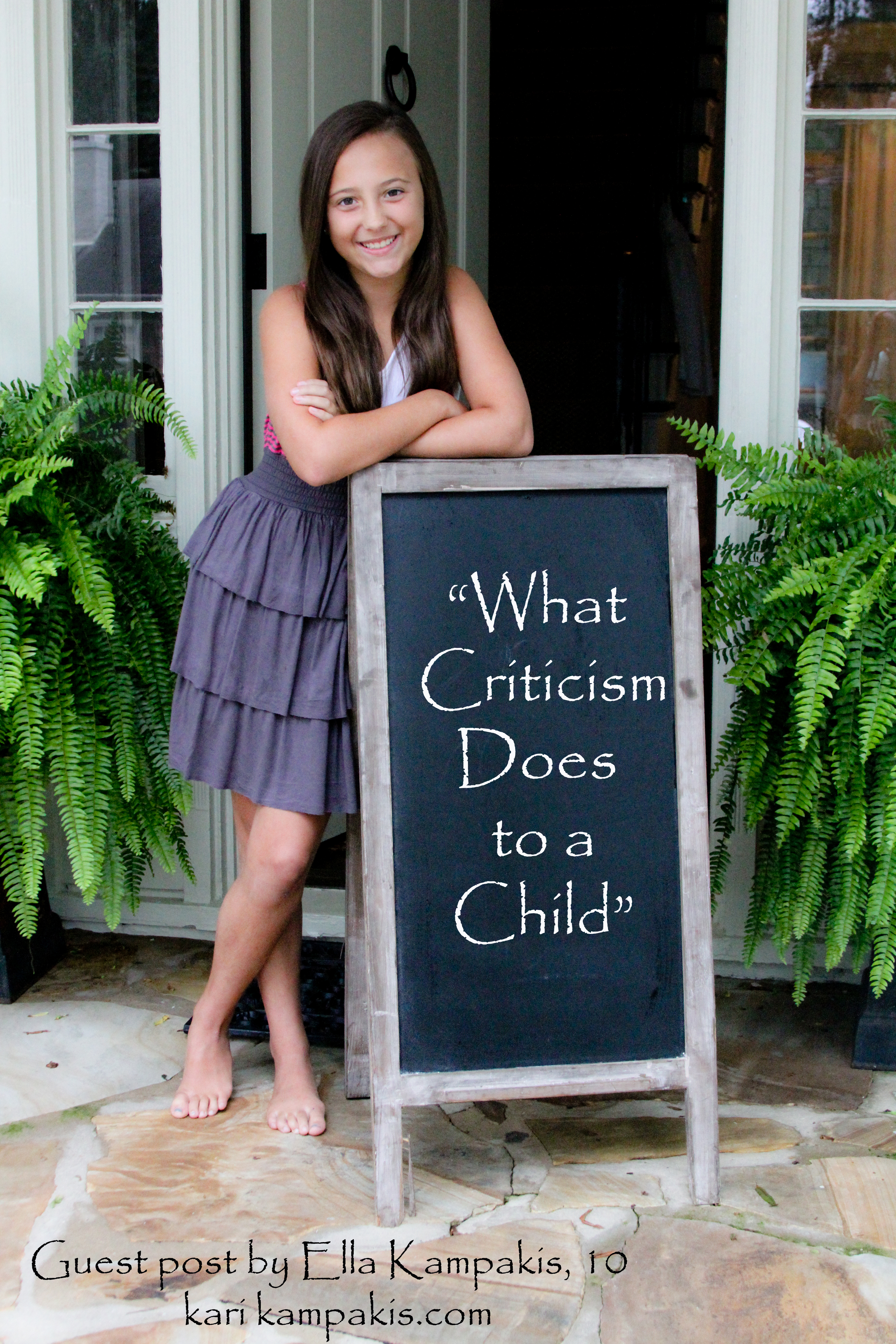 (Following is a post by my 10-year-old daughter, inspired by a conversation we recently had about a reality show and the impact of criticism. Ella is wise beyond her years and has excellent insight on how we parents can help our children meet their potential in a loving, positive manner).
A while back I was at a friend's house, and we stayed up late watching the show "Dance Moms." While I really liked their dance competitions, it made me sad that the girls didn't seem to know they had talent.
I never heard anyone tell them, "Good job" or "I can see you practiced." All they said was "Work harder," "That's awful," and stuff like that. They never told them they had talent. I can't speak for those girls, but if that was me on TV I would have felt lost because I thought dancing was my talent, but no one was appreciating it.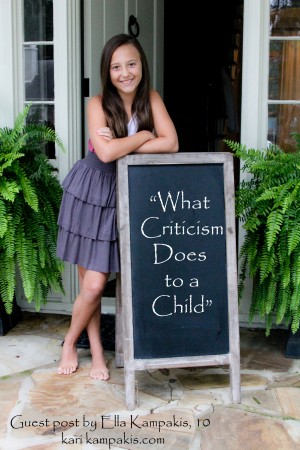 What I think Abby and the moms should have told those girls is that they were still good and had talent, but they needed to keep working hard and practice. When the girls did work hard and practice, no one noticed. Nobody congratulated them or said, "I'm proud of you. Your hard work paid off."
The thing about criticism is you remember it a while. Once you get that voice in your head, it's hard to get it out. You start thinking the voice in your head is right. It makes you want to quit and puts you in an awful mood.
We're kind of young to take on a lot of criticism because we're listening to everything right now, and sometimes we don't know what not to listen to. If we listen to a lot of negative and not enough positive, we doubt ourselves and get scared to try. When we're scared to try something we love, we may look for other talents that don't really fit us and may not make us the person we're meant to be.
What I want those girls on "Dance Moms" and other kids my age to know is that if you love something, stick with it even if some people don't fully believe in you. If you believe in yourself you can achieve great things. To get better you need some feedback, but learn to separate the criticism that can help you from the kind that tries to bring you down.
Everybody has a gift, and when you share your gift you inspire others to share their gift, too. Can you imagine how happy our world would be if everyone was sharing their gift?
******************************************************************************************************************************
Thanks for reading this article today. If you found the message helpful, please share it through social media.

I'm grateful for my readers and would love to connect. You can subscribe to my blog, join my Facebook community, or find me on Instagram, Twitter, or Pinterest. 
Also, I've written two books for teen & tween girls designed to empower them through faith. The newest one, Liked, is getting a fantastic response as a unique resource for girls of the digital age, and along with the bestselling 10 Ultimate Truths Girls Should Know, it's being used widely across the U.S. for small group studies.
Have a great day, and thanks again for stopping by!
Posted by Kari on August 20, 2013
Get Kari's posts by email: