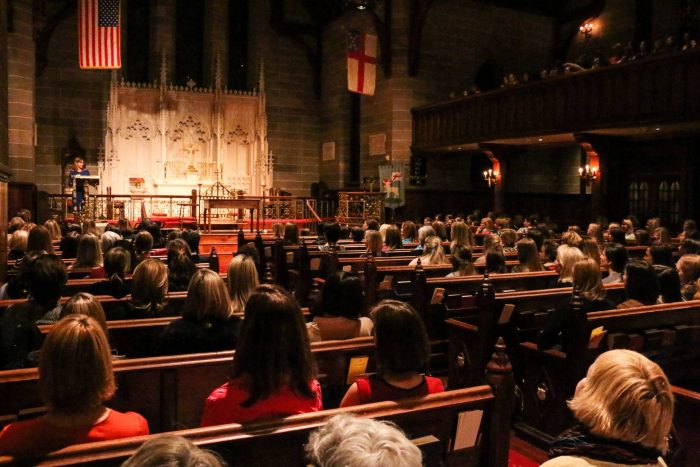 When possible, I accept speaking engagements that align with my family's schedule. I speak to women and girls, often at women's luncheons, parenting events, and mother-daughter events targeted toward 5th grade and up.
Below are some upcoming and past events. If you see one near you that's open to the public, please join us! To learn more about my speaking fees and availability, email me at kari@karikampakis.com.
Make sure and include any relevant details – type of event, audience, estimated size, date/potential dates – as well as topics of interest to your group.
Testimonials
"In August 2016, I stepped out of my comfort zone and planned a mother-daughter event at Birmingham's Lyric Theatre. I felt God calling me to encourage girls with positive messages as a new school year began. As an avid reader of Kari's blog, I felt she was the perfect fit for the audience, so I invited her to be the keynote speaker. Kari connected with everyone in the audience and delivered a message of encouragement and love that moved mothers and daughters alike. She is a shining example of how a single person can touch so many. Her words come from her heart, and you can sense that she lives those words in everything that she does. Kari's message was truly special and she exceeded all my expectations. I can't thank her enough for being a part of our event." Lacy Waters, Birmingham, AL
"When asked to chair the Vestavia Hills Dogwood Luncheon, I knew instantly who I wanted as the keynote speaker, Kari Kampakis. I'd read her books and followed her blog, and I knew she could speak on many topics to all ages. On the day of the luncheon, Kari did not disappoint. She was witty, wise, and wonderful! With a room filled with people age 8 to 80, she found a way to relate to all, and did so with a smile and grace." Gina Henley, Birmingham, AL
"Our church is still talking about the message Kari shared with us several years ago! Somehow Kari can instantly connect with mothers, like an old dear friend, and with their daughters, like a trusted big sister. Kari has a humble and genuine approach to illuminating God's word for women and girls. She left us feeling understood and empowered to live securely in the knowledge of God's love. For those who endeavor to create a community of women and girls who lift each other up for the glory of God, I highly recommend Kari for your next event!" Catherine Montgomery, Director of Children's Formation and Family Ministries, Christ Episcopal Church, Ponte Vedra Beach, FL
"Scrolling through Facebook one day, I found a blog post entitled '10 Truths Girls Should Know.' The article hit home for me, as a mom of a middle school girl. The blog led me to her books, which I promptly purchased and read. I knew this was a resource I could not only use with my daughter, but also our girls small group. That led us to invite Kari to our church to speak to a crowd of 300, a lot for our small town. Kari instantly felt like an old friend, a trusted fellow mom who could speak those words that are sometimes hard to find. The girls engrossed themselves in her words, making notes and starting some amazing conversations between them and their moms and friends. Her truths were relevant not only to the girls, but also to the moms. I hope to have her back sometime soon!" Jill Beck, Effingham, IL 
"Full of truth and real-life examples, Kari's word for our girls was thought-provoking and inspiring! Our middle and high school girls learned they have a choice of how to live – either honoring God and clinging to Him as their anchor or giving in to the world. Kari walked them through ways to take their journey to the next level and filled their hearts and minds with encouragement that will impact their own words and actions for years to come." Tina Hinkle, Mobile, AL
"I read a blog post by Kari and knew immediately that she put into words what was on my heart and the hearts of other women and young ladies in our church community. Thankfully, I was chairing a speaking event, and Kari graciously agreed to be our keynote speaker. The hand of God was in every moment Kari spent with us. She facilitated a small group discussion with our 4th and 5th grade girls and connected with them immediately. Her talk to the women and young ladies of our church was exactly what we needed, and she left us feeling full and uplifted. Kari radiates kindness, understanding, and a godly wisdom. Kari is a pleasure to work with and becomes an immediate friend to everyone who has the privilege of spending time with her." Ashley Yelverton, Christ Episcopal Church, Raleigh, NC
"With a packed house at The Cathedral of St. Philip in Atlanta, Kari wowed fellow mothers with her wisdom when she spoke about her first book, 10 Ultimate Truths Girls Should Know. While the book is a must-read for teen and tween girls, everyone, including adults, could definitely benefit from these truths." Leah Wilkerson, past president, St. Clare's Guild at The Cathedral of St. Philip/Atlanta
| 2023 and 2024 EVENTS |
SUNDAY, JANUARY 22-MONDAY, JANUARY 23, 2023
Mother/Daughter Event in Mobile, AL at Saint Paul's Episcopal Church (Event Full), Contact: Miranda Dismukes
SUNDAY, JANUARY 29, 2023
Mom Event in Birmingham, AL, at Prince of Peace Catholic Church, Register HERE, Contact: Amy McCarthy
WEDNESDAY, FEBRUARY 8, 2023
Speaking to girls and moms in Flora, MS, Contact: Kim Webb
THURSDAY, FEBRUARY 9, 2023
Speaking to girls and moms in Madison, MS, (Private Event) Contact: Libbo Crosswhite
THURSDAY, FEBRUARY 23-FRIDAY, FEBRUARY 24, 2023
Speaking to moms in Greenville, MS, Buy tickets HERE, Speaking to girls at Washington School, Contact: Jamie Murrell
WEDNESDAY, MARCH 15, 2023
Speaking to girls and moms at Briarwood in Birmingham, AL, Contact: Luann Causey
TUESDAY, MARCH 21, 2023
Speaking at Exhale Event in Milton, GA, Buy tickets HERE, Contact: Beth Moon
WEDNESDAY, MARCH 22, 2023
Love Her Well Event at Marietta First United Methodist Church in Marietta, GA, (Event Full, Join Wait List HERE), Contact: Emily Holle
WEDNESDAY, APRIL 5, 2023
Speaking at Mount St. Mary's "Mercy & Me 2023" Luncheon in Little Rock, AR, Buy tickets HERE, Contact: Lauren Day
MONDAY, APRIL 17, 2023
Speaking at a Highland Park KLIFE breakfast in Dallas, TX, (Private Event), Contact: Alyson Booth
FRIDAY, APRIL 21, 2023
Keynote Speaker at Women of Compassion Luncheon in Birmingham, AL, Contact: Maureen Hallman
THURSDAY, APRIL 27, 2023
Mother/Daughter Event at First Baptist Church Trussville in Birmingham, Buy tickets HERE, AL Contact: Catherine Galloway
MONDAY, May 2, 2023
Parenting Seminar at Twickenham Advisors in Huntsville, AL (Private Event), Contact: Macy Moore
THURSDAY, MAY 11, 2023
Mother/Daughter Dinner at Montgomery First Baptist Church, Montgomery, AL, MS, Contact: Sharon Windham
SUNDAY, AUGUST 20, 2023
Mother/Daughter Event from 2-4 pm in Starkville, MS, Contact: Orly Hardin
SUNDAY, AUGUST 20, 2023
Mom Event at 7 p.m. (and Monday Morning School Assembly) at Oak Hill Academy in West Point, MS, Contact: Kat Cook
SUNDAY, AUGUST 27, 2023
Mother/Daughter Event at First Baptist Church in Cullman, AL, Contact: Mary Helen Ingram
MONDAY, AUGUST 28, 2023
Mother/Daughter Event and Mom Event at Temple Baptist Church in Hattiesburg, MS, Contact: Kelli Brent
TUESDAY, SEPTEMBER 5, 2023
Mother/Daughter Event and Mom Event at Lee Academy in Clarksdale, MS, Contact: Rone Walker
WEDNESDAY AND THURSDAY, SEPTEMBER 6-7, 2023
Mother/Daughter Event and Mom Event at St. John the Evangelist Catholic Church in Oxford, MS, Contact: Suzanne Helveston
WEDNESDAY, SEPTEMBER 13, 2023
Mom Event for Mothers at St. Rose Academy in Birmingham, AL, Contact: Meagan Robichaux
SUNDAY AND MONDAY, SEPTEMBER 17-18, 2023
Mother/Daughter Event and School Assembly at Evangelical Christian School in Cordova, TN, Contact: Rachel Twiford
MONDAY, SEPTEMBER 18, 2023
Private Event at Saint John's Episcopal Church in Memphis, TN, Contact: Allison Pace
SUNDAY, SEPTEMBER 24, 2023
Speaking at First United Methodist Church in Opelika, AL, 2 p.m., Contact: Drew Speakman
MONDAY, SEPTEMBER 25, 2023
Speaking at Lee-Scott Academy in Auburn, AL, Contact: Donna Lloyd, Leigh Smith
MONDAY, OCTOBER 1, 2023 (Tentative)
Mother/Daughter Event in Greenville, SC
TUESDAY AND WEDNESDAY, OCTOBER 3-4, 2023
Speaking at St. Jude the Apostle Catholic School in Dunwoody, GA, Contact: Siobhan Finnegan
WEDNESDAY, OCTOBER 11, 2023
Mother/Daughter Event at The Church at Liberty Park in Birmingham, AL Contact: Michelle Ramsey
MONDAY AND TUESDAY, OCTOBER 23-24 2023
Mother/Daughter Event and Mom Event in Monroe, LA, at Ouachita Christian School, Contact: Kara Devinney
SUNDAY AND MONDAY, NOVEMBER 5-6, 2023
Mother/Daughter Event and Mom Event in Richmond, VA, Contact: Emilie Rabke
WEDNESDAY, NOVEMBER 29, 2023
Mother/Daughter NCL Event and Mom Event in San Antonio, TX, Contact: Lauren McLaughlin
TUESDAY, JANUARY 16, 2024
Mother/Daughter Event at Our Lady of Sorrows Catholic Church in Birmingham, AL, Contact: Pam King
SUNDAY-MONDAY, JANUARY 21-22, 2024
Mother/Daughter Event and Mom Event in Fort Worth, TX, Contact: Louise Keffler
MONDAY-TUESDAY, JANUARY 22-23, 2024
Mother/Daughter Event and Mom Event in Argyle, TX, Contact: Erika Rodstrom
TUESDAY-WEDNESDAY, JANUARY 23-24, 2024 (Potential)
Mother/Daughter Event and Mom Event in Tyler, TX, Contact: Rachel Cammack
SUNDAY, JANUARY 28, 2024
Mother/Daughter Event at Vestavia Hills Methodist Church in Birmingham, AL, Contact: Emily Boles
SUNDAY, FEBRUARY 11, 2024
Mother/Daughter Event in Winston-Salem, NC at Centenary United Methodist Church, Contact: Tammy Pollack, Shelley Holden
SUNDAY, FEBRUARY 25, 2024
Mother/Daughter Event in Jacksonville, FL, Contact: Caitie Morgan
SUNDAY, MARCH 10, 2024
Mother/Daughter Event in Gadsden, AL, Contact: Jill Partridge
TUESDAY, MARCH 12, 2024
Speaking in Gulfport, MS, Contact: Stephanie Norris
WEDNESDAY, MARCH 13, 2024
Speaking at UMS-Wright Preparatory School in Mobile, AL, Contact: Sherie Mabrey
THURSDAY, MARCH 14, 2024 (Tentative)
Event in Brewton, AL, Contact: Shae Hines
SUNDAY, APRIL 14, 2024
Mother/Daughter Event and Mom Event in Padukah, KY, Contact: Mary Hunter Hancock
WEDNESDAY, APRIL 24, 2024
Mother/Daughter Event and Mom Event St. Catherine of Siena Parish in Metairie, LA, Contact: Lori Wilken, Michelle Macicek

TUESDAY, MAY 7, 2024
Mother/Daughter Event Hosted by St. George and St. Aloysius in Baton Rogue, LA, Contact: Jenny Culotta, Jana Hebert
SUNDAY, AUGUST 18, 2024
Mother/Daughter Event in Dallas, TX, Contact: Anna Gilmore
SUNDAY, AUGUST 25, 2024
Mother/Daughter Event in Mobile, AL at Saint Paul's Episcopal Church, Contact: Miranda Dismukes
MONDAY, AUGUST 26, 2024
Speaking at Christ the King School in Daphne, AL, Contact: Lynn Cooper, Jan Quint
SATURDAY, NOVEMBER 2, 2024
Mother/Daughter Event in Visalia, CA, Contact: Ciara Chase
| 2022 EVENTS |
THURSDAY, JANUARY 20 AND FRIDAY, JANUARY 21, 2022
Speaking to high school girls and parents in Oxford, MS, Contact: Jenny Addy
FRIDAY, FEBRUARY 4, 2022
Speaking to middle school and high school students at Ouachita Christian School in Monroe, LA, Contact: Kara Devinney
WEDNESDAY, MARCH 21-22, 2022
Speaking at St. Mary's Catholic School and to parents in Natchitoches, LA, Contact: Lisa Guillet
TUESDAY, APRIL 5, 2022
Launch Day for More Than a Mom, a new book for mothers
THURSDAY, APRIL 7, 2022
Speaking & Book Signing in Tuscaloosa at One Hope Church, Buy tickets HERE, Contact: Kristy Lee and Raeanna Thomas
WEDNESDAY, APRIL 13, 2022
Coffee & Book Signing for Moms at Clover + Bee at 9 a.m., Buy tickets HERE, Contact: Bryson Kessler
SUNDAY, APRIL 10, 2022
Speaking at Huntsville United Methodist Church in Huntsville, AL, Buy tickets HERE, Contact: Jamie Chance, Eliza Spearman
FRIDAY, APRIL 29, 2022
Speaking to high school girls and parents at Christ Presbyterian Academy in Nashville, TN, Contact: Wendy McCormick
FRIDAY, MAY 6, 2022
Mother's Day Luncheon at St. Luke's Episcopal Church in Birmingham, AL, Buy tickets HERE, Contact: Margaret Angelillo
SUNDAY, MAY 15-MONDAY 16, 2022
Speaking to parents and middle school/high school girls at Saint Michael Catholic School in Houston, TX, Contact: Kathleen Cox
SUNDAY, MAY 22, 2022
Mother & Daughter Event at Trinity Methodist Church in Birmingham, AL, 6-7:30 p.m., Buy tickets HERE, Contact: Tina Thompson
SUNDAY, AUGUST 21, 2022
Mother & Daughter Highland Park Event in Dallas, TX, (Private event), Contact: Anna Gilmore, Jacky Pincoffs
SUNDAY, AUGUST 28, 2022
National Charity League Tea for mothers and daughters in Mobile, AL, (Private event), Contact: Amy McDonald
MONDAY, AUGUST 29, 2022
Speaking in Gulfport, MS, A lunch for mothers and an evening event for mothers and daughters, Buy tickets for both HERE, Contact: Stephanie Norris
SUNDAY, SEPTEMBER 18, 2022
Event at Brentwood Academy in Nashville, TN, (Private event), Contact: MaryKatherine Seibels, Alyssa Hall
TUESDAY, SEPTEMBER 27, 2022
Mother & Daughter Event at Houston's First Baptist Church in Houston, TX, Buy tickets HERE, Contact: Christi Smith,christi.smith@houstonsfirst.org
SUNDAY, OCTOBER 2, 2022
Event in Tupelo, MS, Contact: Susannah Pace, susannahpace@gmail.com
SUNDAY, OCTOBER 23, 2022
Event in Jackson, MS, Contact: Emily Decker, emilineh@hotmail.com
SUNDAY, NOVEMBER 6, 2022
Event in Columbus, GA, Contact: Jennifer Walker, jwalker4@aflac.com, Buy tickets HERE
MONDAY, NOVEMBER 7, 2022
Event in Newnan, GA, Contact: Dianne Parker, boo32169@gmail.com, Buy tickets HERE
WEDNESDAY, NOVEMBER 16, 2022
Mother/Daughter Breakfast in Sea Island, GA, Buy tickets HERE, Contact: Whitney Long
| 2021 EVENTS |
SUNDAY, MARCH 14, 2021
Event for teen girls & mothers in Decatur and Hartselle, AL, Contact: Katie Braddock and Shannon Boothe
SUNDAY, SEPTEMBER 12, 2021
50TH Birthday Party in Cumming, GA
SUNDAY, NOVEMBER 28, 2021
Event for teen girls & mothers at Auburn United Methodist Church, Contact: Lindsey Middleton
| 2020 EVENTS |
SUNDAY, MARCH 8, 2020
Event for teen girls & mothers in ElDorado, AR, Contact: Beth Compton, Leanne Harrell
| 2019 EVENTS |
THURSDAY, JANUARY 10, 2019
Speaking to middle school girls & parents at Hutchison School in Memphis, TN
WEDNESDAY, JANUARY 23, 2019
Speaking to teen girls & parents at Our Lady of Sorrows Catholic Church in Birmingham, AL, 6:30 p.m. (open to public, tickets $10), Contact: Beth Lindsey
SUNDAY, JANUARY 27, 2019
Event for teen girls at 6 p.m. at St. Simons Community Church, St. Simons Island, GA (open to public, free, RSVP to Sara@thegp.org) Contact: Whitney Wise Long, Lucas Ramirez at lucas@thegp.org
WEDNESDAY, FEBRUARY 6, 2019
Event for teen girls & parents at 6 p.m. in Baton Rouge at FUMC  (open to public, tickets $15), Contact: Jennifer Stephens, jennifer@firstmethodist.org
SATURDAY, FEBRUARY 23, 2019
Event for teen girls & mothers at 6:30 p.m. at Mountain Brook Community Church in Birmingham (this event is free, but please RSVP here), Contact: Kelley Brown
THURSDAY, MARCH 7, 2019
Event for teen girls & parents at 6:30 p.m. in Shreveport, LA, at Shreveport First United Methodist Church, (open to public, tickets $10), Contact: Stephanie Walker, Allison Barrett
SUNDAY, APRIL 14, 2019
Event for teen girls & parents in Baltimore, Maryland at St. Demetrius Greek Orthodox Church, Contact: Maria Antonakes
THURSDAY, AUGUST 2, 2019
Event for teen girls & mothers in Opelika, AL, at FUMC Opelika, Contact: Drew Speakman
SUNDAY, AUGUST 18, 2019
Event for teen girls & mothers in Greenwood, SC, at First Presbyterian Greenwood Church, Contact: Elise Collins
SUNDAY, SEPTEMBER 22, 2019
Event for teen girls & mothers in Dothan, AL, 3-5 p.m. at First United Methodist Church, Buy tickets here, Contact: Heather Howell
WEDNESDAY, DECEMBER 4, 2019
Speaking at the Carillon Club Luncheon in Huntsville, AL, Contact: Chris Bragg
| 2018 EVENTS |
THURSDAY, JANUARY 4, 2018
Community Bible Study Opening Speaker, New Hope Presbyterian Church in Birmingham, AL
Contact: Amy Steenwyk, steenwyk3@gmail.com
FRIDAY, JANUARY 19, 2018
Speaking to Crestline 4th grade Bible Club, Contact: Shauna Hard
SUNDAY, JANUARY 21, 2018
Mother/daughter event at Christ Church United Methodist in Louisville, KY, 6 p.m. Contact: Ginger Beard
SUNDAY, JANUARY 28, 2018
Event for teen girls & parents of teens at Athens UMC in Athens, GA, Contact: Katie Ryan
THURSDAY, FEBRUARY 8, 2018
Speaking at Career Day at Mountain Brook High School, Contact: Lori Smith
TUESDAY, FEBRUARY 13, 2018
Speaking on an All In Mountain Brook Parenting Panel at Crestline Elementary School, Contact: Dale Wisely
SATURDAY, FEBRUARY 21, 2018
Event for teen girls & mothers in Effingham, IL, Contact: Jill Beck
SUNDAY, MARCH 4, 2018
Event for teen & tween girls (5th grade and up) and women at FUMC Demopolis, 6 p.m., Contact: Jennifer Jordan
WEDNESDAY, APRIL 18, 2018
Speaking at Crestline Garden Club, Contact: Allyson Fox
FRIDAY, APRIL 20, 2018
Speaking at Vestavia Hills Elementary Central in Birmingham, Contact: Anna Sizemore
SATURDAY, JUNE 2, 2018
Keynote speaker at the Illuminate Youth Conference in Washington, IN, Contact: Molly Mitchell
SUNDAY, JULY 22, 2018
Speaking at Camp Hollymont in Asheville, NC, Contact: Amy Lewellen, Missy Roper
THURSDAY, AUGUST 2, 2018
Speaking at First United Methodist Church in Opelika, AL, 5 p.m. talk for girls, 6 p.m. talk for moms, Contact: Drew Speakman
SATURDAY, SEPTEMBER 29, 2018
Speaking at young women's retreat in Lafayette, IN, St. Mary Cathedral, Contact: Kasie Robertson
SATURDAY, NOVEMBER 2, 2018
Speaking to teens at Hoke's Bluff Women's Event at Union Number 3 Baptist Church, Contact: Carrie Robinson
THURSDAY, NOVEMBER 15
Mother/daughter event at Franklin First United Methodist Church in Franklin, TN, at 6 pm, Buy tickets here, Contact: Meg Harding and Kelly Gore
| 2017 EVENTS |
WEDNESDAY, JANUARY 18, 2017
Speaking at Mountain Brook Junior High PTO Meeting
WEDNESDAY, JANUARY 25, 2017
Speaking to middle school/high school girls at St. Paul's Episcopal School in Mobile, Contact: Tina Hinkle
WEDNESDAY, FEBRUARY 15, 2017
Speaking to Parent Association at UMS – Wright Preparatory School in Mobile
Mother/daughter event at UMS – Wright Preparatory School in Mobile, Contact: Casey Whiting
TUESDAY, FEBRUARY 21, 2017
Mother/daughter event at Canterbury United Methodist Church, http://www.canterburyumc.org/kari
SATURDAY, MARCH 11, 2017
Mother/daughter event at Helena United Methodist Church
WEDNESDAY, MARCH 15, 2017
Mother/daughter event at Fairhope United Methodist Church, Contact: Robin Coleman
THURSDAY, APRIL 6, 2017
Vestavia Hills Dogwood Luncheon, Contact: Gina Henley
SUNDAY, APRIL 23, 2017
Mother/daughter event at Trinity Presbyterian Church in Tuscaloosa, Contact: Preston Adair
WEDNESDAY, APRIL 26, 2017
Mother/daughter event in Arlington, VA, buy tickets HERE, Contact: Ginger Loper
SUNDAY, SEPTEMBER 10, 2017
Mother/daughter event in Rushton, LA at Trinity Methodist Church
Contact: Teila Lee at wtlee4@yahoo.com
THURSDAY, OCTOBER 5, 2017
Mother/daughter event in Gulf Breeze, FL
Contact: Laura Pinzone at mlpinzone@yahoo.com
THURSDAY, OCTOBER 12, 2017
Samford Legacy League Luncheon at Vestavia Country Club, Purchase tickets HERE
Contact: Samford Legacy League at 205-726-2247 or legacyleague@samford.edu
| 2016 EVENTS |
SATURDAY, FEBRUARY 13
Speaking event for middle school girls and parents at Christ Community Church in St. Charles, IL, Contact: Pete Sutton
SUNDAY, MARCH 6
Speaking at St. Mary's School in Jackson, TN, Contact: Tracy Dillon
MONDAY, APRIL 4
Speaking at Cathedral of St. Luke's Episcopal in Birmingham, Contact: Sumner Rives
SATURDAY, APRIL 9
Speaking at Cathedral of St. Paul in Birmingham, Contact: Anne Hereford
SUNDAY, APRIL 10
Speaking at Central United Methodist Church in Decatur, Contact: Apryl Botto
SUNDAY, APRIL 17
Speaking to girls youth group at First Presbyterian Church in Tuscaloosa, Contact: Neeley Lane
THURSDAY, MAY 12
Mother/daughter event  in Florence, Contact: Andrea Goodson
SUNDAY, JULY 17
Speaking at Camp Hollymont in Asheville, NC, Contact: Amy Lewellen, Missy Roper
SATURDAY, AUGUST 20
Keynote talk at a Mother/daughter concert at Birmingham's Lyric Theatre
Tickets: www.lyricbham.com/events, Contact: Lacy Waters
FRIDAY, OCTOBER 21
Speaking at Pizitz Middle School, GEMS group, Contact: Amy Williams
THURSDAY, OCTOBER 27
Speaking at Saint James United Methodist Church in Montgomery, Contact: Amy Smith
FRIDAY, NOVEMBER 4
Mother/daughter event at Edenton Street United Methodist Church in Raleigh, NC, Contact: Amy Harriman
SUNDAY, NOVEMBER 6
Mother/daughter event at BDT, Contact: Fanoula Gulas, fmgulas@bellsouth.net
WEDNESDAY, NOVEMBER 9
Mother/daughter event at Rainbow Presbyterian Church in Gadsden, Contact:Jill Partridge
TUESDAY, NOVEMBER 29
Rainbow Presbyterian Church in Gadsden, Contact:Jill Partridge
TUESDAY, NOVEMBER 29
Mother/daughter event in Huntsville, First United Methodist Church, Contact: Mary Alice Fann
WEDNESDAY, NOVEMBER 30
Speaking to Fellowship of Christian Athletes
TUESDAY, DEC. 13
Speaking/book signing at Vestavia Central Gems group, Contact: Caroline McLaughlin
Mother/daughter event in Huntsville, First United Methodist Church, Contact: Mary Alice Fann
WEDNESDAY, NOVEMBER 30
Speaking to Fellowship of Christian Athletes
TUESDAY, DEC. 13
Speaking/book signing at Vestavia Central Gems group, Contact: Caroline McLaughlin
| 2015 EVENTS |
FRIDAY, JANUARY 9
RADIATE: A Girl's Night Out for 7th-9th girls and their mothers at Independent Presbyterian Church
FEBRUARY 4
Women's Luncheon at Cathedral Church of the Advent in Birmingham, Contact: Deborah Leighton
SUNDAY, FEBRUARY 8
Mother/daughter event at Christ Episcopal Church in Raleigh, NC, Contact: Ashley Yelverton
SATURDAY, FEBRUARY 14
Mother/daughter Valentine's event at All Saints Episcopal Church, Contact: Kirstie Ivey
SUNDAY, FEBRUARY 15
Speaking at Mountain Brook Baptist Church, Contact: Hayden Walker at Hayden@mbbc.org
FRIDAY, FEBRUARY 20
Speaking/book signing for Pizitz Middle School GEMS group, Contact: Laura Glaze
SUNDAY, MARCH 8
Speaking/book signing for Covenant Presbyterian Girls' Youth Group, Contact: LeeAnne Logan
WEDNESDAY, MARCH 11
Speaking/book signing in Gadsden at Rainbow Presbyterian Church, Contact: Jill Partridge
MONDAY, MARCH 16
Mother/daughter event at Pulaski Heights United Methodist Church in Little Rock, AR, Contact: Becky Norris
WEDNESDAY, APRIL 22 – FRIDAY, APRIL 24
Christ Episcopal Church in Ponte Vedra Beach, FL, Contact: Catherine Montgomery
THURSDAY, MAY 7
Mother/daughter event at St. Francis Xavier Catholic Church, Contact: Andi Gillen
FRIDAY, MAY 15
Speaking to Briarwood Presbyterian 5th and 6th grade girls, Contact: Mary Crawford
FRIDAY, SEPTEMBER 11
Speaking to Homewood 4th & 5th grade girls, Contact: Catherine Pittman Smith
SUNDAY, SEPTEMBER 27
Mother/daughter event at Fairhope United Methodist Church, Contact: Robin Coleman
THURSDAY, NOVEMBER 19
Parenting event at St. Francis Xavier Elementary School in Birmingham
| 2014 EVENTS |
SATURDAY, OCTOBER 12
Bigtime Ministries Retreat for 7th-9th grade girls in Mountain Brook
MONDAY, NOVEMBER 17
Speaking at Cathedral of St. Philip in Atlanta, GA, Contact: Leah Wilkerson
WEDNESDAY, NOVEMBER 19
Crestline Elementary 6th grade Girls' Bible Club
FRIDAY, NOVEMBER 21
Speaking at Liberty Park Junior High in Birmingham