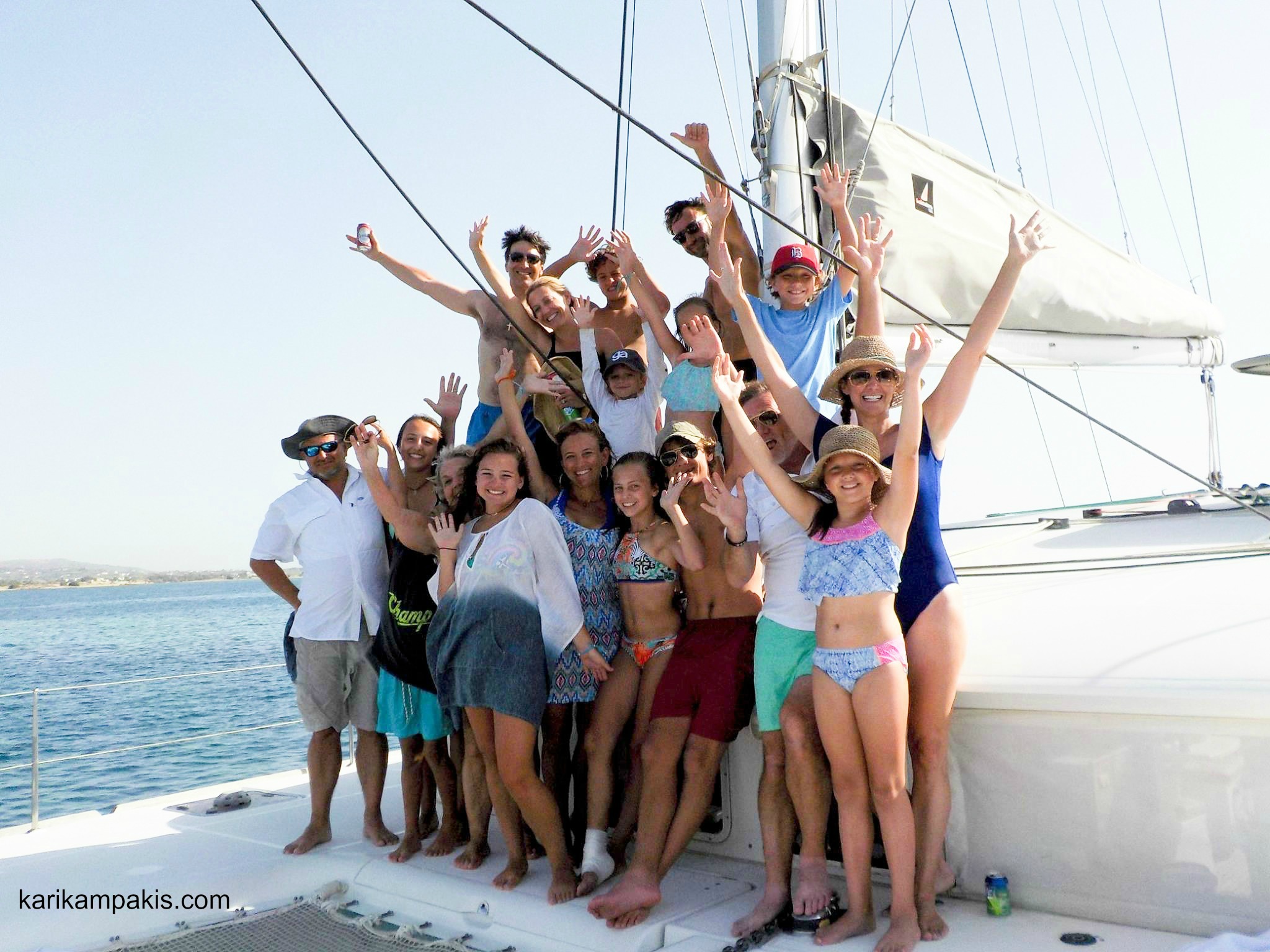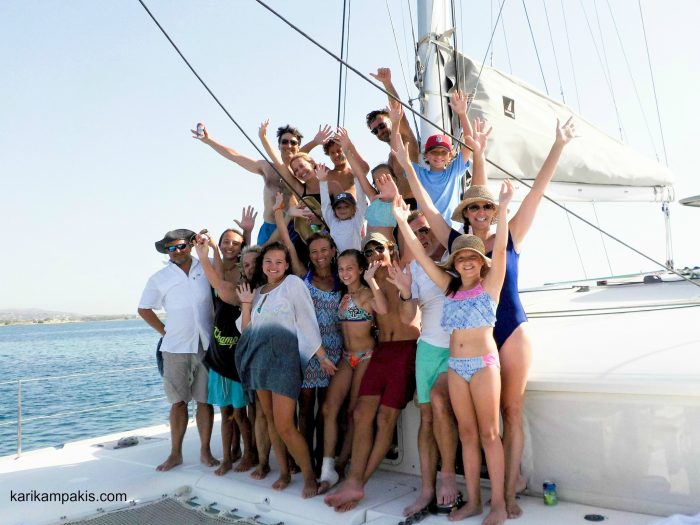 Travel makes you modest. You see what a tiny place you occupy in the world." Gustave Flaubert
My family and I are not world travelers, but recently we enjoyed a vacation to Greece that we'll cherish for decades to come.
There were 17 people in our party: 10 cousins, 3 aunts, 3 uncles, and 1 YiaYia. We travelled with my husband's family in honor of our late Papou, who used to talk about taking his kids and grandkids to the old country until the onset of Alzheimer's cut that conversation short.
Our trip took us to Athens, Santorini, Naxos, Nafplion and Spetses. We worked with Susan Whitson of King & Whitson Travel (who I highly recommend, as she did a phenomenal job) and planned an itinerary based on her expertise and feedback from fellow Greek families.
Most people know that Greece is breathtakingly beautiful. But what fascinated me most is how its beauty is due to age. And when you visit a place that's been around for thousands of years BC, and realize how every monument, stone wall, church, and village has a long and storied past, you gain a deep appreciation for the traditions and old world charm that simply can't be found or manufactured in modern-day communities.
My 17-year-old niece Katherine Grace summed it up best: "There are some places you visit that you don't have to go back to…but Greece is one of those places you have to go back to." As wonderful as it felt to check Greece off the bucket list, we all hope to return one day.
Following are vacation highlights, as well as links that might be helpful if you visit Greece:
Our first group photo, just before leaving the states.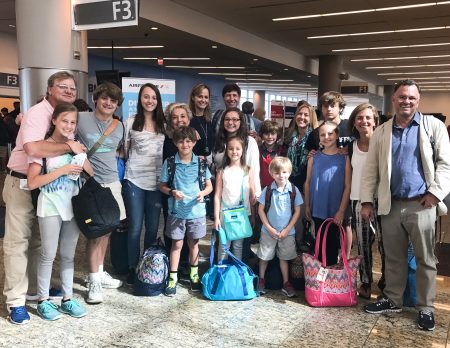 Greeted in Athens by YiaYia's cousins, whom she hadn't seen in 20 years. It was a joyful yet teary reunion.
Family lunch at her cousin's home. Watching my 7-year-old daughter and their 7-year-old grandchild hit it off and play together all afternoon (despite a language barrier) was touching.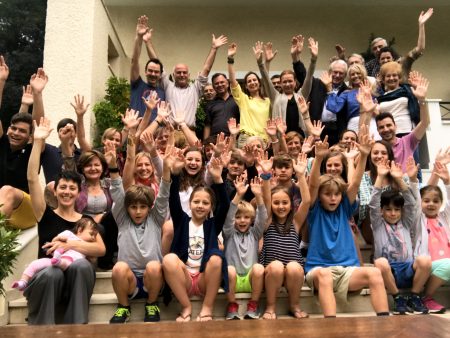 In Athens we stayed at the Grand Bretagne hotel, which offers a spectacular view of the city. We ate dinner at Dionysis (overlooking the Parthenon) and enjoyed an unforgettable walking day tour of the Parthenon and the Acropolis Hill.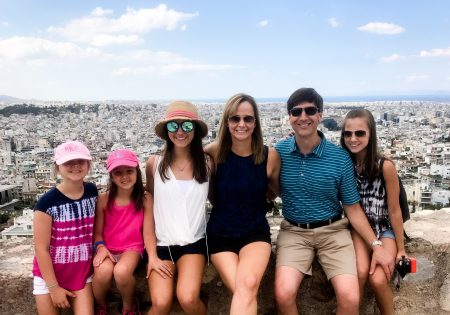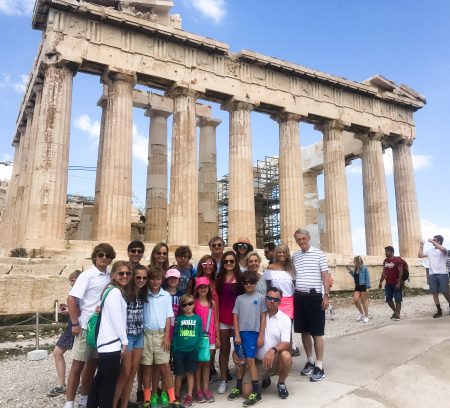 A quick note: A great tour guide is worth getting. On every tour, our guides elevated the experience. We would have been lost and unable to appreciate the significance of what we saw without them. At the Acropolis, our guide (Theoni Kabra) pointed out two things that fascinated me:
The hill where Saint Paul first preached the Gospel in Athens, and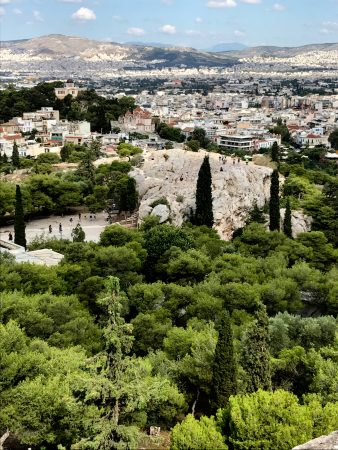 The ancient civilization they discovered after demolishing some longstanding apartments to build the Parthenon Museum (opened in 2009). They believe more of this civilization exists underneath other nearby structures. Very cool!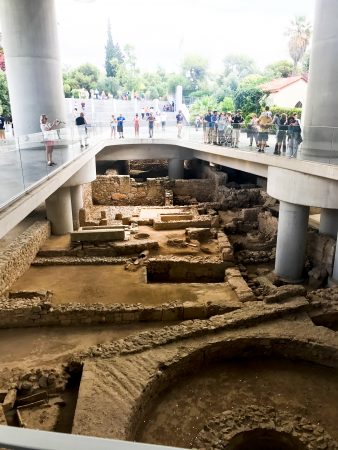 While in Athens, we day-tripped to Delphi. It too has a fascinating history, and on the "country road" that leads to Delphi we saw tiny prayer chapels in random places, like this one next to a gas station.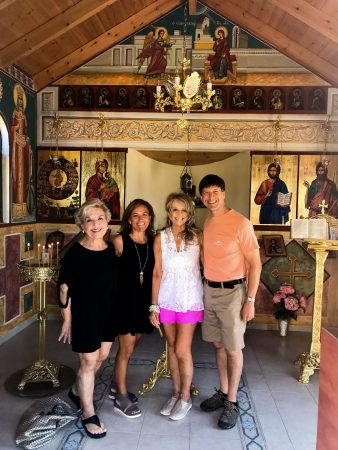 Also on the way to Delphi, we passed through the most charming Greek village called Arachova that's a ski resort in the winter. We ate lunch in Arachova, I'd love to revisit the area again.
From Athens we flew to Santorini, my favorite part of Greece. While it is a huge tourist attraction and gets crowded with 2 million visitors a year, I fell in love with this blue heaven. The views are unreal, the scenery unbelievable.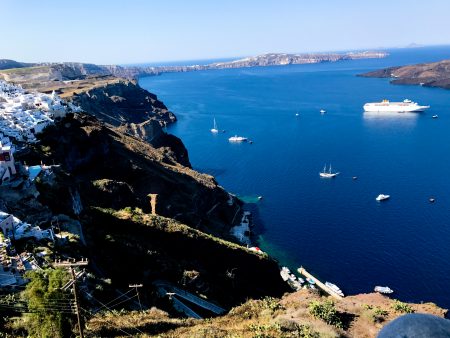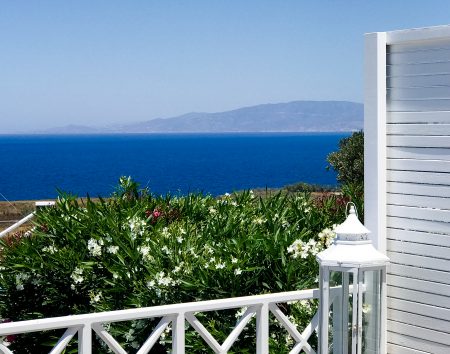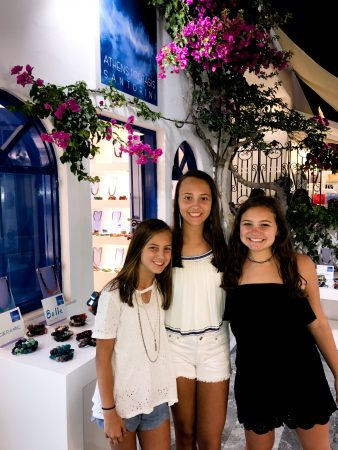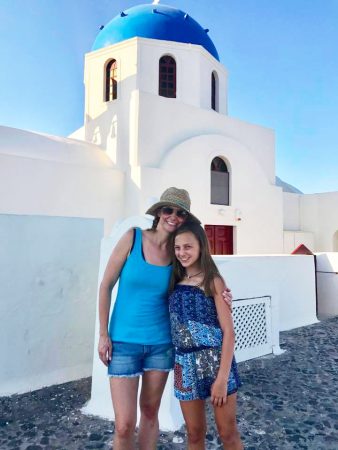 Santorini's splendor and uniqueness emerged from destruction. It is the epitome of "beauty coming out of the ashes." Built on a volcano, Santorini came about due to a volcanic eruption 3,600 years ago. The eruption blew out the center of the island to create a caldera, a volcanic crater now filled with blue water from the Mediterranean Sea.
In the early days, wealthy residents took the flat side of Santorini because they wanted lots of land. They gave the cliff side – undesirable at the time – to the peasants. The peasants, needing a place to live, starting digging into the side of the volcano to create cave-like dwellings for their families. They started painting their homes and businesses white, and over time they grew charming little communities.
Today, these whitewashed villages overlooking the water are the high-dollar real estate. The clifftop settlements in Fira and Oia (we stayed in Oia Sunset Villas) offer the most stunning scenery. Santorini has lots of steep cliffs and stairs, so it's not conducive for small kids. Many hotels won't allow children because they cater to honeymooners and couples wanting a romantic getaway.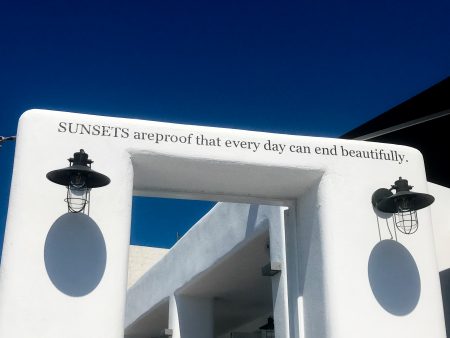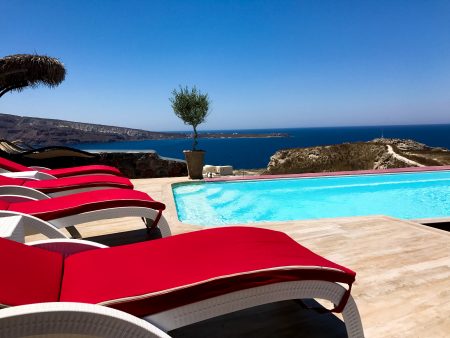 Our favorite Santorini meal was at Forty-One on Black Beach. Black Beach – where the sand is volcanic ash – is also stunning and a must-see. We loved our cooking class at Kouzina and had a blast cooking together as a group!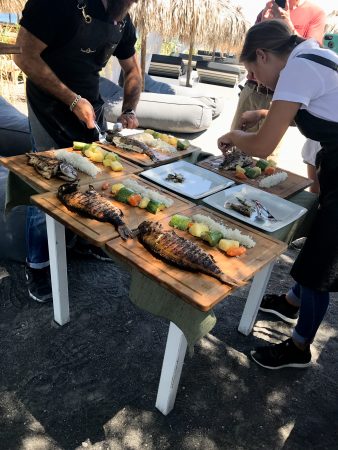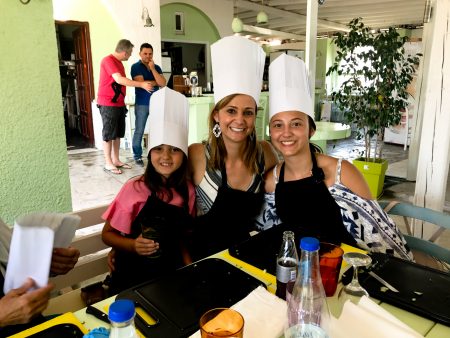 Santorini is famous for its white wine and has 16 wineries. It's fertile volcanic soil (95% volcanic ashes, volcanic materials, and sand) is the secret ingredient to producing some of Greece's best white wines, such as Vinsanto.
As we toured Boutari Winery and learned about Santorini's unique irrigation system – which uses pumice stones instead of water, as pumice stones take moisture from the humidity, absorb it, and give it to the plants – I again felt awed by God's genius and creativity. He takes care of His people uniquely in their environment, transforming even messy pieces of the past into something fresh and beautiful.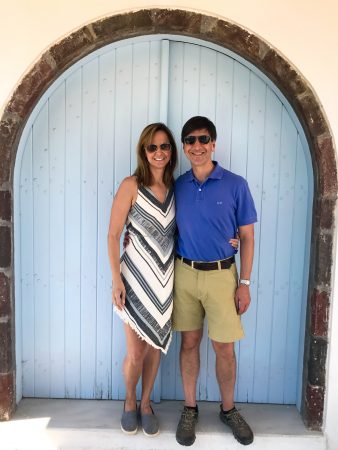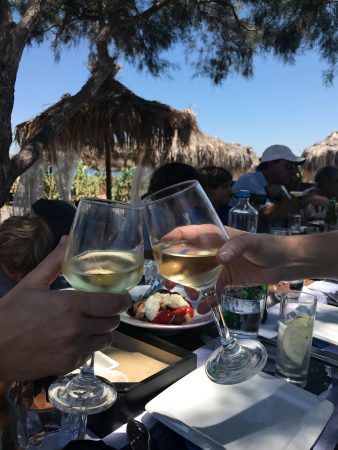 Other must-sees in Santorini are Red Beach and Akrotiri. Called "the Greek Pompeii", Akrotiri was an advanced ancient civilization from 3,600 years ago. They had indoor plumbing, three-story homes, and wealthy lifestyles.
Months before the volcano exploded, residents felt an earthquake and fled town because they knew an eruption was coming. They left their belongings, assuming they'd be back. Akrotiri got buried under volcanic ashes – and these ashes actually protected and preserved it until its discovery in 1967. Walking through this exhibit was fascinating. From artwork to kitchen skillets to clay pots with seeds still inside them, it was mind-blowing to see.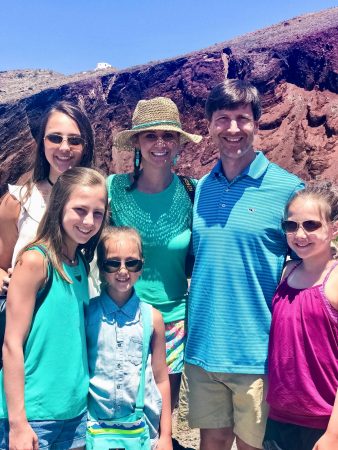 Another crown jewel of Santorini are the churches, mostly whitewashed cubic buildings with bright blue roofs. The island has 600 churches– and only 18 priests. Most churches are family-owned and open just one day of the year, on the name day of the saint the church is named after.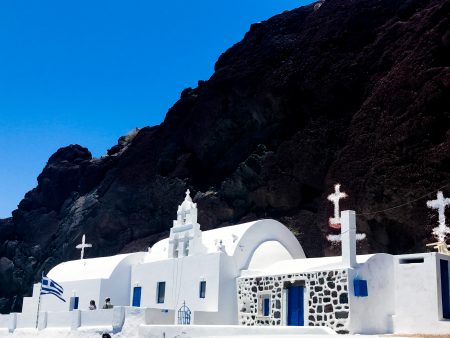 Our final activity in Santorini was a sailing cruise on the Aegean Sea. To tour the Greek islands by boat, and witness the magnitude of God's handiwork in perfectly blue sea that melts into the sky, was an unforgettable experience.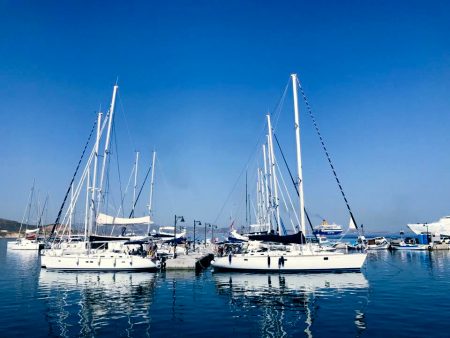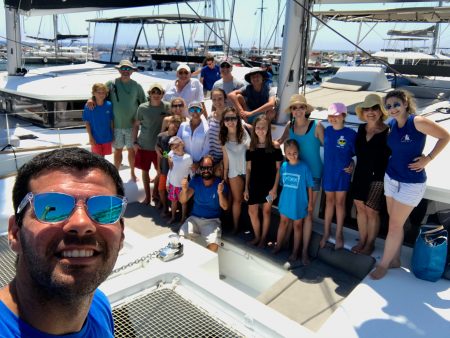 After Santorini we headed to Naxos, and at first I was skeptical. I missed the dramatic beauty and dynamic energy of Santorini, as well as the conveniences. I soon realized, however, that Naxos is more relaxing. A slower pace and quieter way of life. I ended up loving the island, and there were many in our group (kids included) who liked Naxos better than Santorini. We stayed in Aquabreeze Villas, owned by a beautiful Greek woman.
Again, a terrific tour guide made a difference. Katerina of Vioma Naxos Culinary & Culture took us through 3 Greek villages and led a cooking class in a quaint (and remote) restaurant located on a hiking trail in Potamia. The Greek word Vioma means "to experience with emotion, something that gives you a good feeling you take away", and that is exactly what Katerina gave us.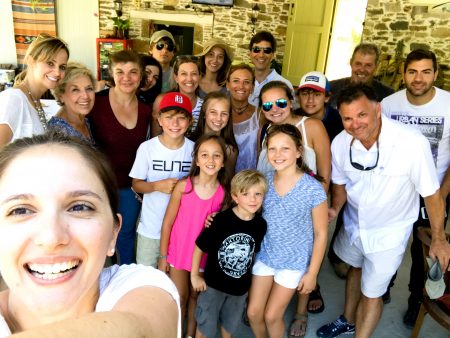 My favorite Naxos village is Halki, both authentic and charming. It has 40 residents in the winter, 200 in the summer, and 35 Byzantine churches – including the Church of Protothroni built in 1053 AD. Since it doesn't look special on the outside, we would have passed by if our guide hadn't mentioned the history.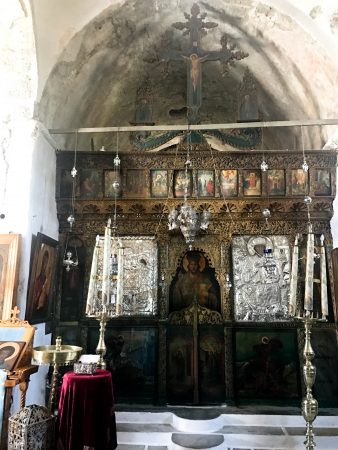 In Halki we also toured a cool distillery that makes Kitron and Ouzo from Kitron leaves and saw the Venetian influence in the colors and architecture (similar to Santorini). I was so taken by this village that I went back the next day, largely to revisit a store called Fish and Olive.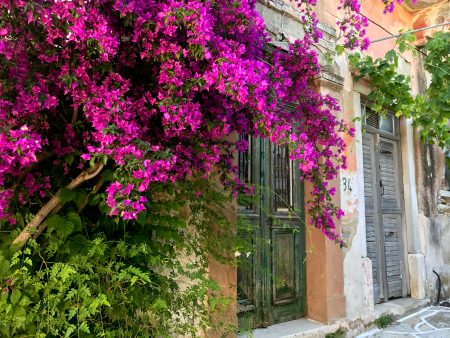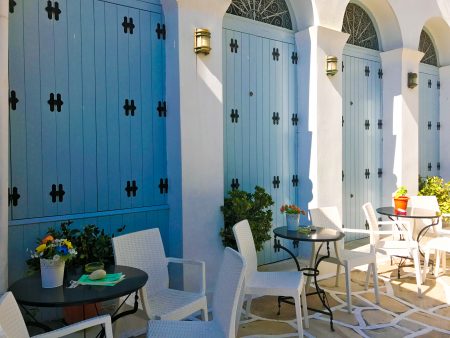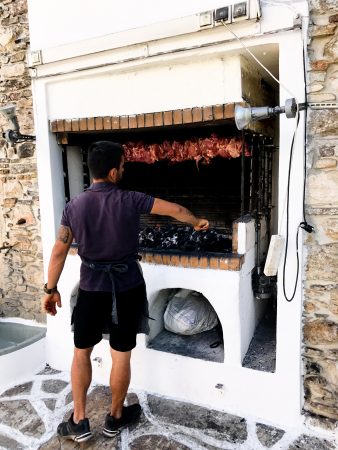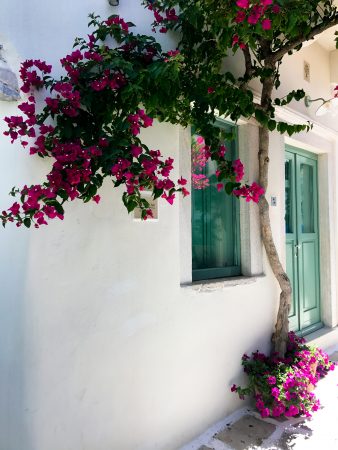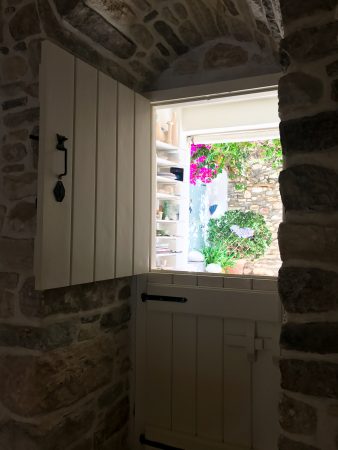 Google maps took us on the "scenic" route to Halki…but it gave us this spectacular view of a white marble mountain.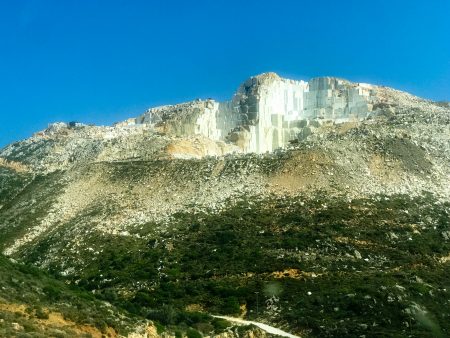 Our last day in Naxos was my favorite day in Greece. The Poulios brothers of Naxos Yachting Catamarans took us sailing and made us feel like family (lunch was a home-cooked meal from their mom!). They anchored the boat in Mikri Vigla, where the Aegean Sea looks like a massive span of pool water.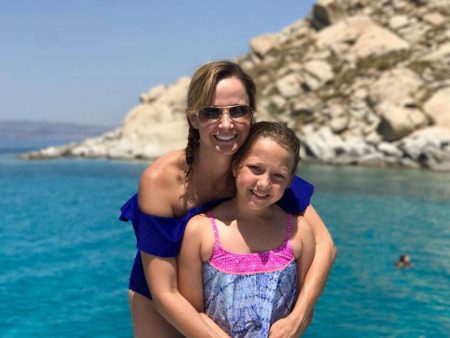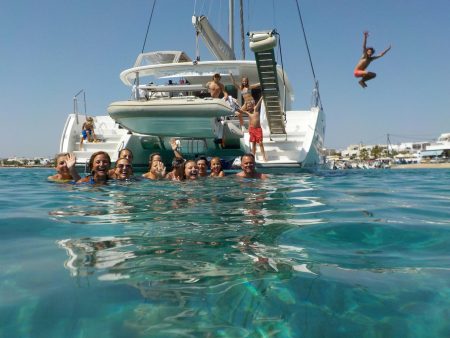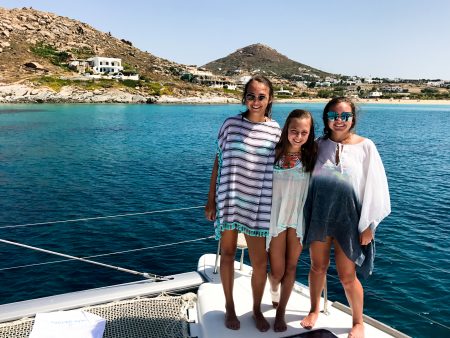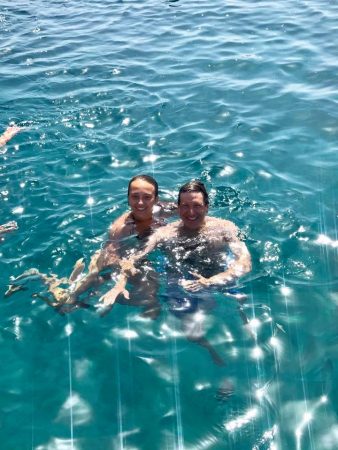 Also in Naxos, we watched the most striking sunsets and ate dinner at a cool restaurant called Petrino.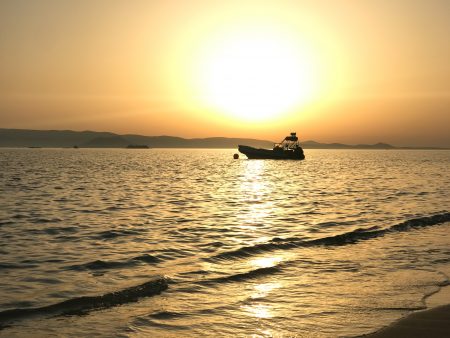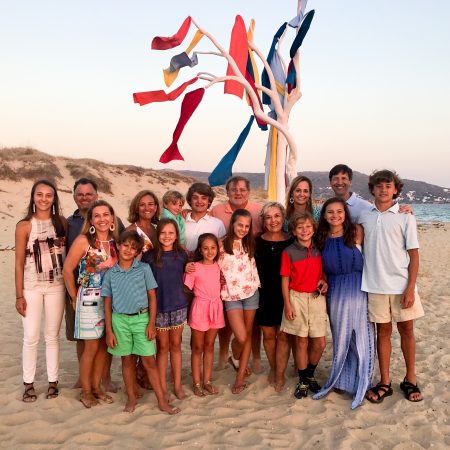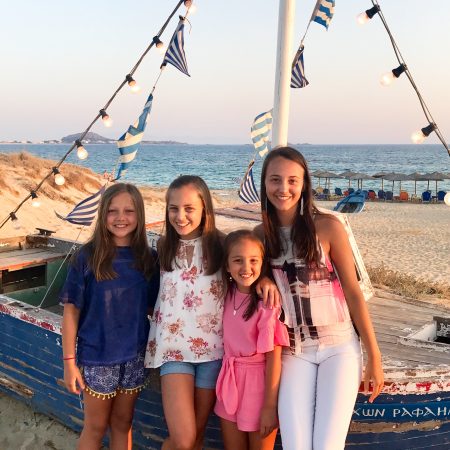 The dads in our group had to return home for work when Naxos was over. It was an emotional good-bye.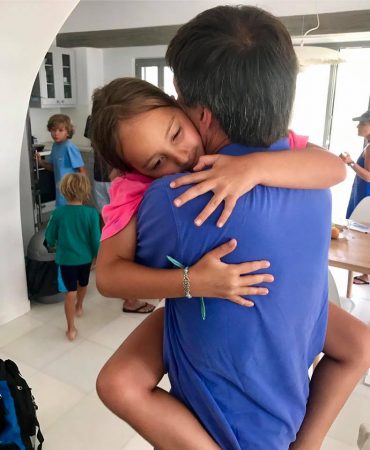 Our last leg of the trip was just women and kids – and more unplanned. We started in Nafplio, recommended to us by other Greeks, but personally I wasn't a fan. I did love the Ancient Theatre of Epidaurus, built in 4th century BC and still a venue for live performances. Many famous people have performed here – including Shakespeare – and it was neat to witness the perfect acoustics that make microphones unnecessary.
After Nafplio came Spetses – which is remarkable. I consider Spetses the Charleston of Greece due to its grand, regal, and timeless beauty. I'd love to visit Spetses again and return to the Nissia Hotel, where the staff goes above and beyond, and where the view of the Mediterranean Sea across the street is magical.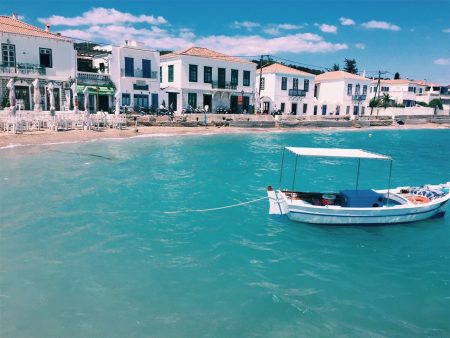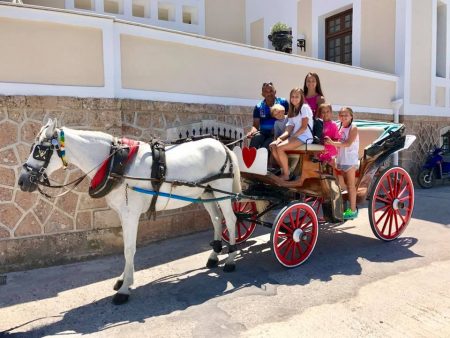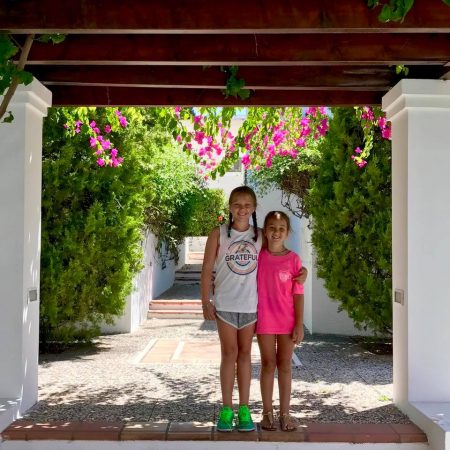 Our best day in Spetses included a boat ride to Agioi Anargiri Beach and venturing into Bekiri Cave.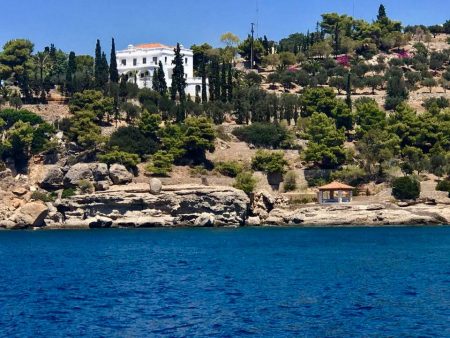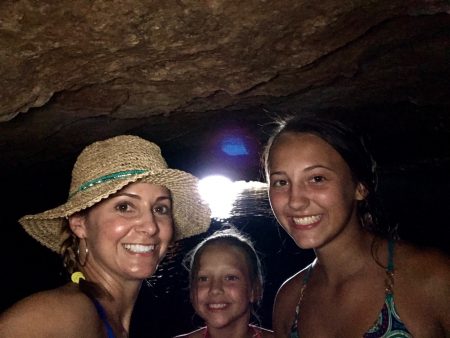 Leaving Spetses was hard, but back in Athens we enjoyed more fun adventures through Kids Love Greece.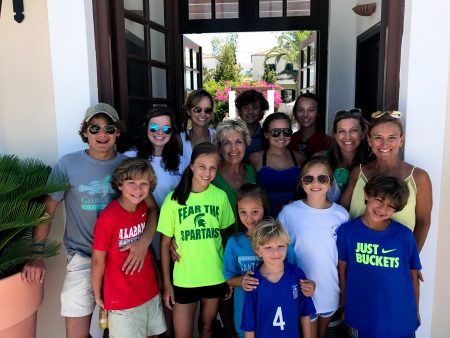 Our final day in Greece ended on a high note. We ferried to Hydra – a spectacular artist's community where the only means of transportation is walking and donkeys. I fell in love with Hydra and can't wait to go back.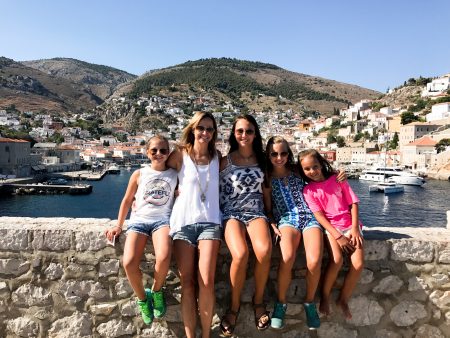 And while I captured our vacation in pictures, my daughters captured it via video. Here is Greece from a 14-year-old and 12-year-old perspective:
Traveling overseas – especially with a family – is a lot of legwork upfront. For a novice like me, the preparation can feel overwhelming. But what I learned from this trip is that traveling is worth the stress and effort. The views and experiences diminish the aches and pains of getting there. Kind of like having a baby, the magnitude of the end result – when something special and unforgettable happens – overshadows the hard moments along the way.
Our vacation wasn't perfect by any stretch. Like every family, we had issues and challenges. A lost phone at the airport. Carsick kids who threw up on buses as they wound up mountainous roads. Kids who sometimes sported attitudes and parents who got irritated. A few glitches that weren't funny at the time but are really comical now.
My daughter Sophie needed medical care twice. Once for a toe infection, and another after gashing her foot on a rock and needing stitches (word to the wise: bring swim shoes to Greece because beaches are rocky and sea urchins are everywhere!). Having kids with food allergies in a foreign country was also stressful.  At the same time, this stress forced me to rely on God and watch Him answer my prayers. I experienced the kindness of locals who eased my anxiety and helped in unexpected ways, like our Naxos host who took me and Harry grocery shopping to read labels and guide us in allergy-safe food choices.
Visiting Greece changed all of us. And as I look at my daughters and their cousins, and I think about the joy and trials that await them in the years ahead, I pray the seeds planted on this trip – the bonds they formed, the memories they made, the people they met, and the laughter they shared while absorbing their Greek heritage – will strengthen their sense of identity and their security in their family as a home base they can always count on.
Family bonding can happen anywhere: at home, on a beach, or in a country far away. More important than any location is the fact that a family is together, sharing new experiences and making unique memories nobody can ever take away. And for me, what this vacation ultimately boiled down to was this: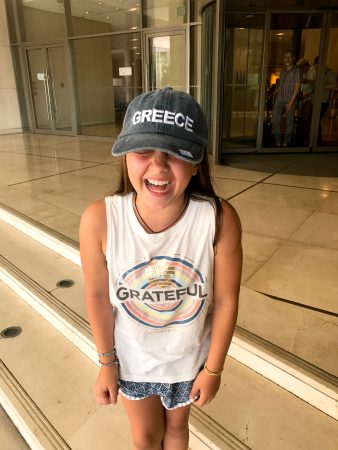 GRATEFULNESS. Gratefulness for the opportunity to travel…the health to travel…and the people who made traveling to Greece a Big Fat Hilarious Adventure.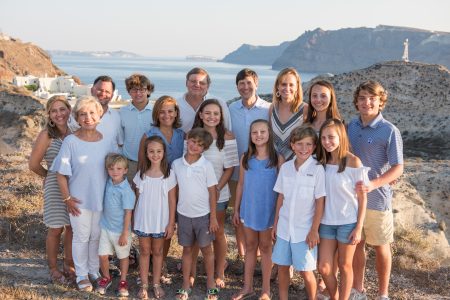 It's been said that travel is the only thing you buy that makes you richer, and I agree. Seeing how other people live, and stepping into their culture, helps you grow, stretch, and reassess the pros and cons of your lifestyle and culture at home. Visiting Greece has heightened my curiosity about the rest of the world, and if your bucket is like mine, so long you'll probably never cover half of it, I recommend keeping Greece near the top.
Make it a priority to see this exquisite, historical land. I promise you won't regret it. If anything, it will renew your spirit, refresh your soul, and remind you of all the beauty that's out there waiting for you…ready to awe you, surprise you, and awaken your sense of wonder.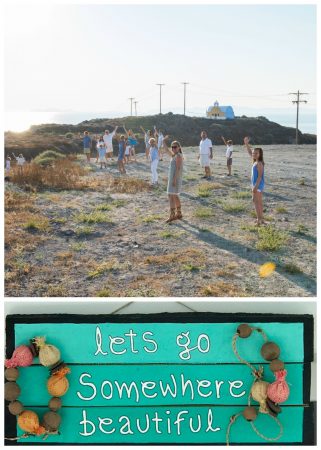 (for more photos, check out my INSTAGRAM page and the hashtag #kampakisfamilytakesgreece)
******************************************************************************************************************************
Thanks for reading this article today. If you found the message helpful, please share it through social media.

I'm grateful for my readers and would love to connect. You can subscribe to my blog, join my Facebook community, or find me on Instagram, Twitter, or Pinterest. 
Also, I've written two books for teen & tween girls designed to empower them through faith. The newest one, Liked, is getting a fantastic response as a unique resource for girls of the digital age, and along with the bestselling 10 Ultimate Truths Girls Should Know, it's being used widely across the U.S. for small group studies.
Have a great day, and thanks again for stopping by!
Posted by Kari on July 26, 2017
Get Kari's posts by email: