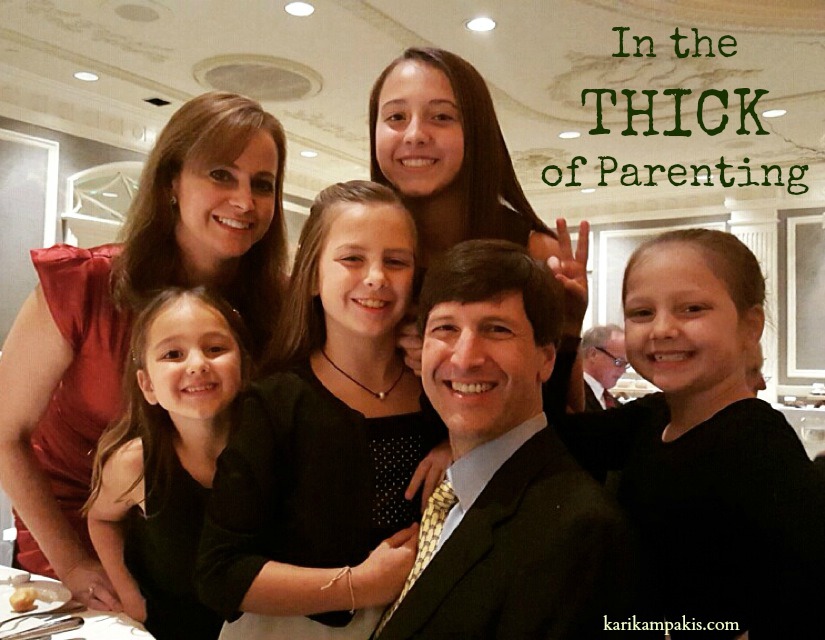 It occurred to me recently that my husband and I have reached an interesting midpoint in parenting.
We've been parents for 13 years. We have 13 years until our youngest child leaves for college. We're halfway to an empty nest. We're in the thick of parenting.
Our busyness today is different from our busyness when the kids were little. While we've certainly hit a sweet spot (with our daughters ages 13, 11, 9 and 6, we can enjoy them without being physically exhausted and sleep-deprived), we've also entered a new stage with moving parts than I expected.
These days, parenting is a game of mental gymnastics. We have 4 kids with 4 distinct personalities and 4 sets of needs. They go in 4 different directions and make 4,000 requests a day for our time, energy, and money.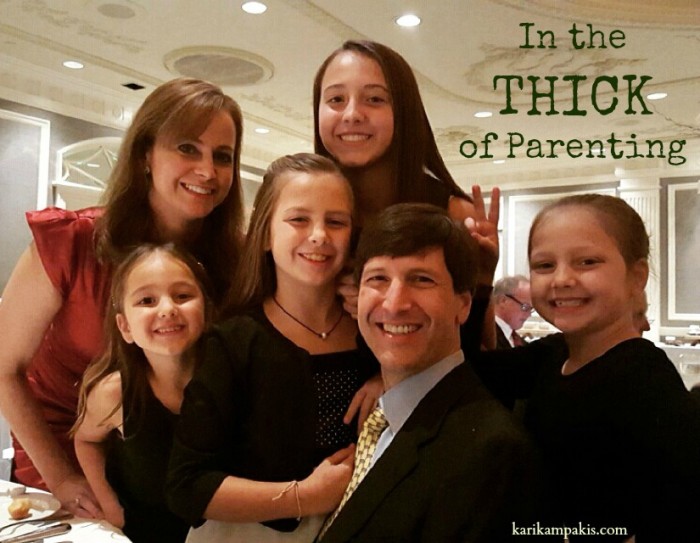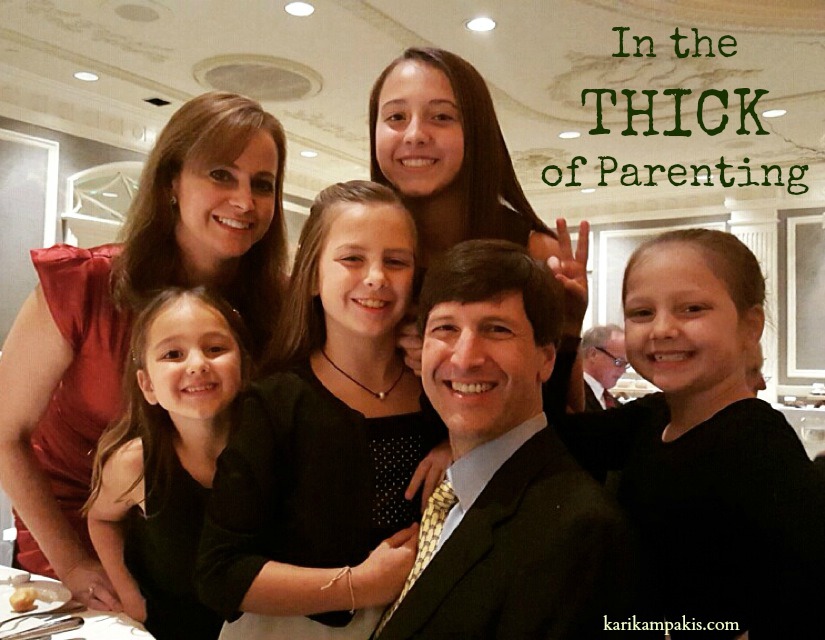 We love them to pieces, but we've gotten good at saying, "No." We have to, because they function better with parameters. They're more respectful and pleasant when we aren't too lax or lenient, although it is constantly a challenge to find the right balance between enjoying our kids/giving them more rope while also setting the boundaries they need.
I wonder sometimes what stage of parenting I'll miss most when our nest is empty. I've seen grandparents get teary-eyed and choked up as they say, "I'd give anything to have one day, just one day, where my kids are all back home."
When I look back twenty years from now, what stage will I miss most? At what moment in time would I freeze my kids and life as we know it?
Part of me thinks this stage could the frontrunner. Despite the demands, the endless carpools, the emotional sagas, and the short-circuiting in my brain, I really like where we are.
I like how personalities are kicking in and passions are taking root. I like how the 7 year gap between my oldest and youngest reveals the fleetingness of each season, and I'm reminded to enjoy my kids exactly where they are, because their lives and their tastes evolve so quickly.
While my baby just started kindergarten, my oldest just started middle school.
While my baby likes to curl her hair, my oldest likes to straighten her hair.
While my baby is learning to read, my oldest is learning algebra.
While my baby just lost her first tooth, my oldest just lost her last tooth.
While my baby loves Disney and bouncy houses, my oldest loves The Hunger Games and trampolines.
Our kids are past dirty diapers and tantrums on the grocery floor, yet years away from driving and college. They're self-sufficient, yet they still need and want us.
And while I don't like the idea of anyone leaving home, I do like watching my girls grow up. I love seeing who they're becoming and noticing God's work in them as they test their wings, overcome challenges, use their gifts, learn from their mistakes, and try to make the world better.
Still, some days are hard. Some days I feel overwhelmed, unequipped, and unable to appreciate the joys and miracles in front of me. Back when I was parenting small kids, I found plenty of great books and advice to help guide me, but I struggle to find resources that speak to me in raising teens and tweens.
I believe this is partially because the answers get less clear-cut as kids grow up. While it's easy to find tips on potty training toddlers and helping them learn to walk, there is no simple approach to navigating hormones and mood swings or helping your child handle the pressures of a world that wants them to decide in 7th grade whether they plan to graduate in 12th grade with a regular diploma or advanced academic diploma.
Seriously, today's teens and tweens carry a lot on their shoulders. They're forced to grow up fast and make decisions that would stump an adult.
My favorite parenting advice typically comes from those parents ahead of me whom I respect and admire. I piece together their stories and wisdom to prepare my heart and mind for what's to come. Thanks to them, I'm learning to be a better listener and to empathize with what my children face. I'm practicing the Poker face I'm told I need to have when the kids share unsettling stories, and I want them to keep talking. I'm understanding the importance of asking good questions, knowing and genuinely loving their friends, and taking advantage of car rides as uninterrupted time to talk.
I'm also learning to embrace humility. Because what gets clear in the thick of parenting is how even "good kids" will make mistakes sometimes. Every child is just one poor choice away from making their parents look like total failures. And if my instinctive reaction to my children's mistakes is, "What will people think?", then I've got a problem. I'm parenting with pride instead of humility, worrying more about appearances than the long-term needs and well-being of my kids.
All this to say, parenting gets more complicated as kids grow up. There are more balls to juggle and more action-packed days that make the years seem to fly by. With this action, however, comes an excitement and a sense that big and life-changing things are happening. This is where the rubber hits the road. This where you hang on for dear life as you help your child navigate new roads and pray that you're preparing them for what's to come.
Parents ahead of me often say, "These are the years you're going to miss. This is what it's all about," and I believe them. While I won't miss the laundry piles that never end, or the constant flow of dishes into the sink, I can imagine looking back with laughter and wistful smiles as Harry and I remember, above all the grief and low points, how much fun we had giving our daughters a childhood that shaped us as much as them.
In the thick of parenting is a special place to be. There is so much to reflect upon, yet so little time to reflect. And if we treat these days are a GIFT, a temporary season full of opportunities to engage with our children and point them in a meaningful direction, we can soak them up instead of wish them away.
We can remind ourselves again and again that even on the hard days, we still have it exceptionally good, because our family is united and together, making memories that will last a lifetime in the place we all call home.
******************************************************************************************************************************
Thanks for reading this article today. If you found the message helpful, please share it through social media.

I'm grateful for my readers and would love to connect. You can subscribe to my blog, join my Facebook community, or find me on Instagram, Twitter, or Pinterest. 
Also, I've written two books for teen & tween girls designed to empower them through faith. The newest one, Liked, is getting a fantastic response as a unique resource for girls of the digital age, and along with the bestselling 10 Ultimate Truths Girls Should Know, it's being used widely across the U.S. for small group studies.
Have a great day, and thanks again for stopping by!
Posted by Kari on January 24, 2016
Get Kari's posts by email: