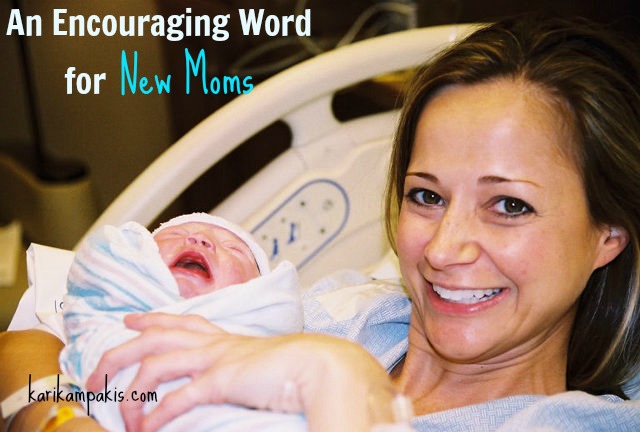 Congratulations, momma! You did it. You've ushered a beautiful, breathing, live miracle into this world. That newborn baby cradled in your arms is a game changer, a little piece of heaven so warm and irresistible that you instinctively know this is the purest thing you'll ever experience on this side of eternity.
It sounds cliché, but try to soak it up. Understand how the indescribable high of meeting your child is hard to repeat. While I certainly can't speak for everyone, for childbirth stories can get very complicated, I can say the days my children were born were the best days of my life.
In those hospital rooms, I experienced a joy unlike any joy I'd ever known. I felt the divinity of God's time (kairos) intersect with the reality of our time (chronos) and transport me to a place so peaceful and perfect that I can only imagine what heaven must be like.
My guess is that you spent your pregnancy preparing for this moment. You've read the books. Sought the advice. Chosen your pediatrician and educated yourself on car seats, high chairs, crib safety, and must-have baby gear.
Yet even so, you're worried, scared, and overwhelmed. This world seems so unfit for a baby – especially your baby – and there's too much that can go wrong. Potential dangers lurk everywhere, and if you're like me, you may freak out panic as your husband takes the wheel of your car to drive you and your newborn home from the hospital.
After all, you now have precious cargo. You have a tiny, tender, helpless creature you're responsible for, and you don't that that lightly. You want to be a great mom, and your deepest desire is to give this child the life they deserve – even if that means laying down your life for them.
So what does the future hold? What can you expect? Clearly, your family's story will be unique, but what I can touch on some common experiences and feelings parents go through, things I wish someone had told me when I become a mom 14 years ago.
Having a baby is hard work. And with your first baby, there's a steep learning curve as you learn to care for another human being while functioning on limited sleep. Give yourself room to grow, and show yourself grace. Lower your expectations of what you can accomplish in a day. Most importantly, rest whenever you can (I found the advice "Sleep when your baby sleeps" very helpful).
Newborns are adorable and exhausting. Even if you feel like Wonder Woman, sleep deprivation will catch up with you if you ignore your body's needs. Find a system that works for you and accept any help that family and friends offer, especially on things like meals, laundry, and running errands.
That ideal parent in your head is a figment of your imagination. Perfect parents don't exist, and while there are many parents who you can and should learn from, you'll never meet anyone who has all the answers. You'll never meet anyone who's raising their kids exactly the way you hope to raise yours because your personal experiences, values, and gut instincts will all play a big role in the choices you make.
The only true parenting expert is God, who created your child and knows what they were born to do. So lean on Him for guidance. Get to know Him by praying, studying Scripture, and joining a church community that enhances and activates your faith. Also, look for wise mentors who can help you tune into God's quiet voice, find godly resources, and understand your calling as a parent.
Children are blessings, not burdens. While this is easy to remember on good days, the hard days are another story. The most common Google search that randomly brings people to my website is "Children are blessings," due to this post. And whenever I see a new visitor has found me this way, my heart aches a little, because I imagine the frustration, loneliness, and guilt they may feel as they look to the Internet for help in appreciating their kids.
The truth is, I've been there. Especially when my four kids were small, there were many days when the pitter-patter of footsteps charging toward my bedroom early in the morning put a pit in my stomach. At 6 a.m., I already dreaded the day. I needed a pep talk to get out of bed. I wanted to escape my life.
Kids challenge you at every age, but the early years can be particularly taxing because 1) they're needy, 2) you can't always reason with them, 3) you're exhausted since someone is always sick, and 4) your husband is working harder – and later – to provide for a growing family.
What helped me most was intentionally taking steps to keep my mind in a positive place. I exercised, invited friends over for playdates (especially during the bewitching hours of 3 – 6 pm), wrote fiction at night as a mental escape, and hung out with moms with a good sense of humor and healthy perspectives. I also stepped up my prayer life and started reading Christian books – beginning with The Power of a Praying Mom, gifted to me by a friend as I struggled with a strong-willed toddler.
People often say about small kids, "The days are long, but the years fly by," and it's true. Your children are little only for a short season, so do whatever it takes to enjoy them, even if it means seeing a therapist or getting professional help. Make it your goal to find daily moments of joy that remind you life is good.
Online community is great, but real-life community is priceless. I love social media, but I'm glad it didn't exist when I became a mom. I'm glad that when I felt lonely, sad, or confused, I had to reach out to friends and relatives rather than click online. I could stroll my baby without feeling an urge to check my phone, film her first steps for personal pleasure and not Facebook "likes", and form my identity as a mom without being confused by 50 million blogs and constant comparisons to moms in my news feed.
The world is different now, and while online communities can offer tremendous support and timely advice to moms, they'll never meet your needs like real-life interactions. Digital friends can't change your baby's diaper while you clean up your dog's vomit. They can't drop off chicken noodle soup when you're down with the flu. And they can't meet you at Zumba to help you get your body back because you're tired of your pants not fitting.
Enjoy your online community, but remember that your best interactions will always happen in person. The village you need most are the ladies you have on speed dial.
You don't need a fancy home and lots of money to raise a happy, healthy child. I had my 1st child at age 30 and my 4th child at 37. I essentially spent my 30's starting and growing a family. It was a sweet season…yet also stressful.
Because in your 30's, there's a mindset of upward mobility and a fear of getting left behind. There is silent competition among young families as everybody constantly trades up – bigger houses, bigger cars, more possessions, etc. – in search of "the good life."
And then your 40's come, and things start to implode. You see real problems manifest – i.e. death, divorce, cancer, wayward kids, a scary diagnosis, a mid-life crisis – that money can't solve. You realize what your child needs most isn't their own private bathroom and every competitive advantage, but attention and love. And since attention and love are both free, they can exist in even the smallest, most humble home.
Whether you're choosing baby monitors or colleges, it's easy to think, "Only the best for my child." But before you see less-than-the-best as a failure, remember this from Forest E. Witcraft: "A hundred years from now it will not matter what my bank account was, the sort of house I lived in, or the kind of car I drove… but the world may be different because I was important in the life of a child."
In the end, your greatest legacy will be the impact you make on your child's heart – and the character you instill to help them cope with real life problems.
The best mom friends are compassionate, not competitive. Let's face it – we all have a competitive monster that gets stirred when we feel inadequate. And when you see a child hit milestones before your child, or meet a mom who seems more together than you, it can make you feel the need to prove yourself or step up your game.
But remember this: The purpose of friendship is to bless, not to impress. And what you need, more than anything, are mom friends with that attitude. Moms who can cheer you on and cheer you up. Moms who genuinely love you and your child. Moms who feel safe enough to be real and honest with you because you're real and honest with them.
Are some moms harsh, critical, and judgmental? Sure. But there are also moms who are kind, considerate, and fun. Decide now which kind you want in your life, and surround yourself with women who celebrate others and can help you feel good even on a bad day.
Your child is a work-in-progress, and so are you. Accepting this upfront makes any moment of disaster easier to handle. Nothing cures perfectionism like motherhood. At some point in your near future, your child will start to do things that humble you (like having a meltdown in Target) disgust you (like inviting you to a tea party with water they scooped from the toilet) and hurt your feelings (like giving you the cold shoulder).
Motherhood is wonderful, but it's also messy. Like everyone, your child is human, full of conflicting thoughts, emotions, and impulses. Just when you think you have them figured out – they'll do something to surprise you. You'll start your journey believing you are the teacher, but with time you'll realize how you're a student too, a student with many lessons to learn.
Watching your baby grow up is bittersweet. It's also a GIFT. While leaving the hospital with my first baby, I burst into tears. When my husband asked me why, I told him, "Because she's growing up. She's two days old already. I can't handle it."
Granted, the hormones had hijacked my emotions, but even so, it killed me to think of my baby changing one iota because I loved her so much. I wanted the happiness of that moment to last forever. But babies and kids change every day. They grow by leaps and bounds, and nothing we do can slow that train down.
Rather than mourn the past, I try to celebrate the present. I've learned to recognize and embrace the beauty of every stage and remember what a privilege it is to witness a child growing up. As much as I loved my four daughters as babies, I love them even more now because I know them. I know their personalities, their quirks, and their favorite foods. I recognize the sound of their laughter and their mood of the day by the way they enter my car after school or practice.
So snuggle with that bambino on your chest, all swaddled in pink or blue and so deliciously warm, and treasure this point in time. Know that you're off to a magical beginning – and yet the best is still to come.
The struggle of motherhood is real, but the rewards make it worth it. You have so much to look forward to – first words, tender kisses, bedtime stories, learning to swim and ride a bike, losing teeth and finding seashells, the joy of Christmas morning – but for now just bask in the glow of that angel in your arms, the one whose innocent eyes and dependence on you will turn your world upside down in the best kind of way.
God has made you for this moment, and if you open your heart to Him, He'll guide you in the road ahead. You're going to be a fantastic mother. In fact, you already are. 🙂
******************************************************************************************************************************
Thanks for reading this article today. If you found the message helpful, please share it through social media.

I'm grateful for my readers and would love to connect. You can subscribe to my blog, join my Facebook community, or find me on Instagram, Twitter, or Pinterest. 
Also, I've written two books for teen & tween girls designed to empower them through faith. The newest one, Liked, is getting a fantastic response as a unique resource for girls of the digital age, and along with the bestselling 10 Ultimate Truths Girls Should Know, it's being used widely across the U.S. for small group studies.
Have a great day, and thanks again for stopping by!
Posted by Kari on May 8, 2017
Subscribe to Blog via Email
2 responses to "An Encouraging Word for New Moms"