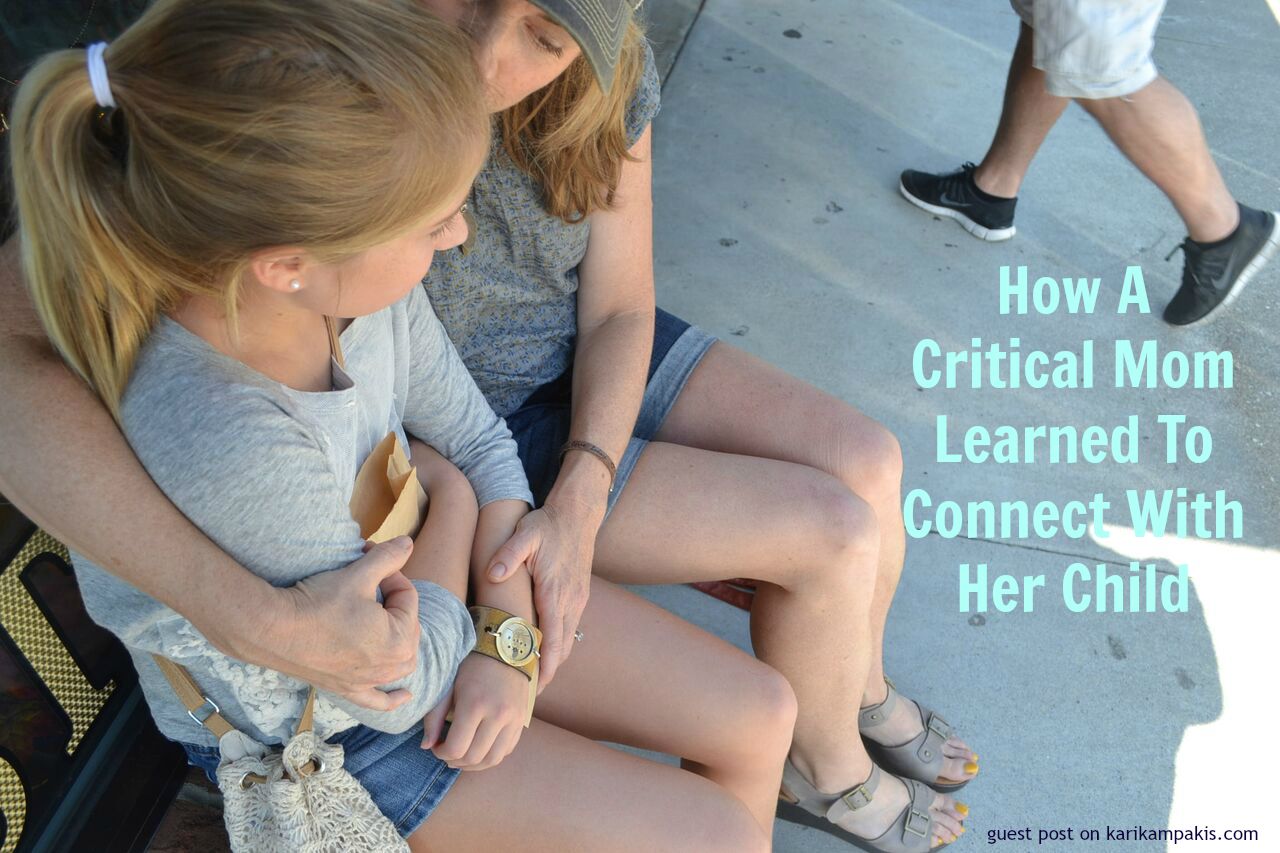 Friends, today's post is written by my friend Rachel Macy Stafford – also known as Hands Free Mama – whose highly anticipated new book Hands Free Life releases September 8th. Rachel is a gifted writer with a heart of gold, and her beautiful insights on intentional parenting have touched millions across the globe. I highly recommend her new book as a guide on creating a life of significance and strengthening relationships with your family and friends. 

A bright teenager wrote to tell me she found my blog using the following search words: "how to remind my mother I am a human being with feelings". The young lady explained, "I could do a million things right, but my mom could still find the flaws, and that ruins the whole day."
At that sight of those words, my eyes became wet. I cried for this young woman. I cried for her mother. I cried for my own little girl who used to pick her lip in the back of the car after our stressful departures. I cried for the woman who sat behind the wheel aching with regret for expecting so much of a six-year-old child.
For years I justified my overly critical behavior by telling myself I was doing it to help her—help her become more responsible, capable, efficient, and prepare for the real world.
I told myself I was building her up.
But in reality, I was tearing her down.
I vividly remember the day my mother was visiting from out-of-town. My two daughters were playing alone in the basement. My younger daughter began crying hysterically. I ran downstairs fearing she was seriously hurt.
The first question out of my mouth was directed at my older daughter. "What did you do?" I asked angrily.
My child didn't bother to explain that her little sister had slipped on the library book that was sitting on the bottom step. There really was no point. My beautiful child with humongous brown eyes that once held so much optimism looked defeated. Silent tears of a broken spirit slid down her face. My daughter knew it didn't matter what she said, she'd still be wrong; it would still be her fault.
And there was my mother standing beside her, a silent witness to the whole ugly scene.
As my older daughter ran off to the sanctity of her bedroom, an unexpected question came out of my mouth. "You think I am too hard on her, don't you?" I snapped.
My mom, who'd experienced her own difficult parenting moments and struggles, held no judgment in her eyes, only sadness. Her simple response of "yes" only confirmed what I knew in my heart.
I mustered up the courage to find the words that needed to be said. Apologizing didn't come easily for someone who strived to make everything look perfect all the time, but I knew what needed to be said.
I found my child crumpled up like a dejected rag doll on top of her bed—her face puffy and red from crying.
"I'm sorry," I mumbled.
My daughter didn't move.
I sat down on the edge of her bed and began saying things I'd never said to another human being—not even myself. "I feel mad inside a lot. I often speak badly about myself in my head. I bully myself. And when I bully myself, it makes me unhappy and then I treat others badly—especially you. It is not right, and I am going to stop. I am not sure how, but I will stop. I am so very sorry," I vowed, trying not to cry.
My daughter looked unsure as to what to do with this confession, this unusual offering from her mother who rarely admitted any wrongdoing. I didn't blame her for the skeptical look she gave me. I understood why she didn't say anything back, but somewhere in those eyes I saw hope—hope that things could be different.
I knew I had to silence my inner bully—the voice that was prone to criticize my children and myself … the one who set unrealistically high standards … the one who could never be pleased … the one who blocked grace from entering our home.
I realized that my inner bully was a destructive force that prevented me from living and loving fully. Not only would it destroy my chance at true fulfillment and joy, it would also rob my child of hers.
Through God's grace, I was able to silence the negative dialogue with three powerful words: ONLY LOVE TODAY.
Whenever a critical thought would come to my mind or mouth, I would cut it off with ONLY LOVE TODAY. Sometimes I said it 1,000 times a day, but it worked.
I began noticing my child's inner beauty rather than looking for perfection on the outside.
I began paying more attention to the person she was rather than the successes she achieved.
I began letting her be who she was meant to be instead of some idealistic version of her in my head.
For the first time in a long time, grace was present. It was mine for the taking. It was mine for the offering. And over time, grace became a peaceful and permanent inhabitant of our home. And as a result, a loving bond was established between my child and me.
My daughter recently entered middle school. We talk in the sanctity of her room at night. She asks me which outfits look best. She paints my nails whenever I have something special to attend. She tells me her hopes for the future. She tells me her worries. She tells me things she doesn't tell anyone else.
Each morning she asks me to walk with her to the bus stop. And each time she does, I send up a prayer of gratitude for this sacred invitation. I came painfully close to missing such invitations.
As my child leans in for a side hug before boarding the bus, I think of the bright young lady who found my blog through a Google search. I think of her mother. I pray she knows it is not too late. Today stands in front of us open to change, open to improvement, open to second chances, open to grace.
Today could be about agendas, standards, and timelines or it could be about efforts, thoughts, feelings, hopes, and dreams.
Today could be about expectations, pressure, and perfection—but then again, there's enough of that outside these walls.
Today could be about being human—being that pretty amazing human who lives inside these walls.
And today could be a good day to tell her so.
Only love today.
Let grace in.
********************************************************************
Rachel Macy Stafford is the founder of www.handsfreemama.com where she provides simple ways to let go of daily distraction and grasp what matters most in life. She is the New York Times bestselling author of HANDS FREE MAMA.
Her highly anticipated new book, HANDS FREE LIFE, releases on September 8! It is a book about living life, not managing, stressing, screaming, or barely getting through life. Through truthful story-telling and life-giving Habit Builders, Rachel shows us how to respond to our loved ones and ourselves with more love, more presence, and more grace.
Posted by Kari on August 29, 2015
Subscribe to Blog via Email