Is there a special teen or tween girl in your life? These powerful books can empower girls through faith.
Liked: Whose Approval Are You Living For? is a new release from Thomas Nelson that addresses the topics most relevant to today's girls, such as social media, identity, friendship and faith. It's available everywhere books are sold, including Amazon, Barnes and Noble, and Christianbook.com, and helps parents navigate the unprecedented challenges of raising kids in the digital age.
 Topics covered in Liked include:
Living for God's approval, not human approval
Using social media wisely
Spreading kindness, love, and compassion
Distinguishing online friends from real friends
Handling rejection, criticism, and volatile emotions
Making an eternal difference, not a temporary splash.

10 Ultimate Truths Girls Should Know is based on this popular blog post and has been used widely across the country for small group and church youth group studies. It's available everywhere books are sold, including Amazon, Barnes and Noble, Christianbook.com, and Books-A-Million. It has enjoyed a tremendous response, with girls reading it cover-to-cover and parents and youth leaders giving it an enthusiastic endorsement through reviews like these on Amazon.
The 10 truths include:
KINDNESS is more important than POPULARITY.
Today's choices set the stage for your reputation.
Get comfortable with being uncomfortable. Otherwise you'll never stick to your guns.
People peak at different times in life. Trust God's plan for you.
Both books are ideal resources for mothers to read with their daughters and use as a conversation-starter to bridge the generational gap and create unity by speaking straight to the female heart.
See what Kirkus Reviews had to say about 10 Truths: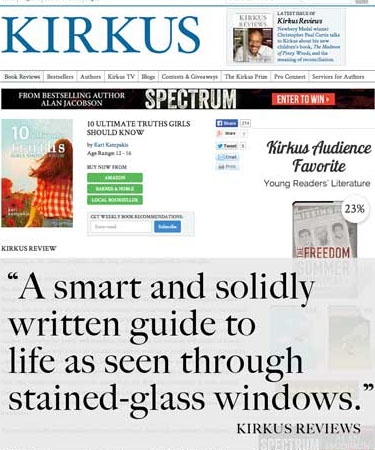 Winner of a 2014 Booky Award from BookGateway!