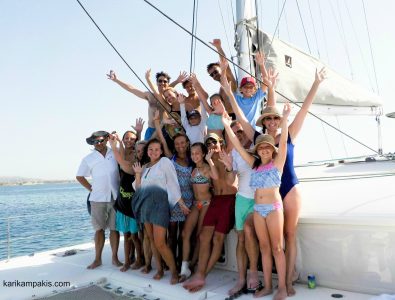 Travel makes you modest. You see what a tiny place you occupy in the world." Gustave Flaubert
My family and I are not world travelers, but recently we enjoyed a once-in-a-lifetime vacation to Greece that we'll cherish for decades to come.
There were 17 people in our party: 10 cousins, 3 aunts, 3 uncles, and 1 YiaYia. We travelled with my husband's family in honor of our late Papou, who used to talk about taking his kids and grandkids to the old country until the onset of Alzheimer's cut that conversation short.
Our trip took us to Athens, Santorini, Naxos, Nafplion and Spetses. We worked with Susan Whitson of King & Whitson Travel (who I highly recommend, as she did a phenomenal job) and planned an itinerary based on her expertise and feedback from fellow Greek families.
Most people know that Greece is breathtakingly beautiful. But what fascinated me most is how its beauty is due to age. And when you visit a place that's been around for thousands of years BC, and realize how every monument, stone wall, church, and village has a long and storied past, you gain a deep appreciation for the traditions and old world charm that simply can't be found or manufactured in modern-day communities.
My 17-year-old niece Katherine Grace summed it up best: "There are some places you visit that you don't have to go back to…but Greece is one of those places you have to go back to." As wonderful as it felt to check Greece off the bucket list, we all hope to return one day.