Last week I spoke at my daughters' school, Mountain Brook Elementary, at a surprise assembly on character. Teachers chose a few students per grade to receive a Character Award. I was thrilled to be part of this event because I consider character crucial to raising healthy, happy, successful kids. My talk was titled "Character is More Important than Winning," and I'm posting it here for anyone who wants to share the message with their children.
************************************************************************************************************
Recently a friend of mine shared a story that's relevant to what we're here to celebrate today. Her son is in 6th grade at Brookwood Forest Elementary and plays baseball. During the summer before 5th grade, his team was in a big all-stars game that was intense and high stakes.
Both teams were determined to win.
Her son, named Michael Putman, made an amazing stop at short stop. Everybody in the stands thought he'd caught the ball for an out….but it was questionable and hard to tell whether the ball hit the ground before landing in his mitt.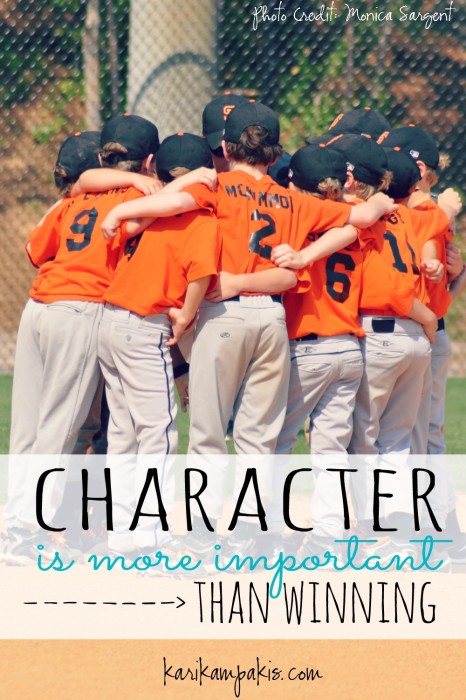 The umpire asked Michael if he'd caught the ball. All the parents and kids were watching and listening closely. Michael knew that he said yes, he'd be the game hero. His team and their fans would be thrilled.
But Michael chose to be honest instead. He admitted that the ball hit the ground before landing in his mitt, and according to his mother, you could hear the crazy parents in the stands grumbling about the call.
Michael's mother told me how proud she was of her son for making the choice to be honest. She was even more proud when a father from the opposing team, whose son goes to Crestline, emailed her after the game to congratulate Michael on his honesty.
Now, raise your hand if you like to win. Keep your hand up in the air if you like to be a hero. If you take a quick look around, it's clear to see how all of us like to win. All of us like to be a hero. And these are good desires, because they can motivate us work hard, be brave, and push past our comfort zone to achieve our goals and dreams.
Living in a place like Mountain Brook, we're surrounded by winners every day. After all, we're a community of champions where parents and kids tend to be highly successful. At our high school alone, we've won 150 state championships in athletics. We're known far and wide for our academic excellence. Every day, we have amazing people achieving amazing things by using the gifts they've been given. And with each generation, the standard of excellence gets passed on.
But what I want all of you to know is that there's something more important than winning. It's more important than money, popularity, or living in the biggest, fanciest house in town. You could rack up a 1,000 trophies, and be the biggest superstar Mountain Brook has ever seen, and it still wouldn't matter as much as the one thing we're here to celebrate.
And that is, CHARACTER.
What is character? Character is the way you conduct your life, and who you are when nobody is looking.
Character is how you treat people who can do nothing to help you.
Character is making a habit of good choices and practicing virtues like honesty, kindness, resilience, patience, compassion, and respect. It's doing the right thing on a small level every day because these small choices prepare us to make those big choices that ultimately put our true character to the test.
Because at some point in life, we all face moments like my friend's son Michael faced. In a matter of seconds, we're forced to choose between doing what's safe, easy, yet wrong and doing what's hard, risky, yet right. And when we put ourselves in Michael's shoes, it's easy to imagine how tempting it must have been for him to lie. Imagine how much courage it took for Michael to tell the truth even though he knew he might disappoint some people and maybe make them angry.
What Michael did was risky, but it was a risk worth taking because he kept his integrity. He proved he's the kind of person others can trust and respect. Most of all, his choice allowed him to feel proud of himself. It gave him that inner peace we all desperately crave.
Now, having three daughters at this school, I know a lot of you in the audience. And I can testify that there is so much character walking down the halls of Mountain Brook Elementary day in and day out. Regardless of whether you get recognized at this assembly, I hope you'll continue to make positive choices that build your character and set you up to win at life. Because in the long run, it's the kids with character who become happy, confident, and truly successful adults. It's the kids with character who earn the admiration of peers and become known as "a class act" by those who know them.
Who you are matters more than anything you'll ever do. And if you really want to like yourself, and attract good people into your life, then I urge you to be intentional about making choices that build your character and make you the kind of person others want to be around and imitate.
I'd like to close by sharing examples of how you can show character at this stage of life. Because once you understand character, you start to recognize it. You can spot it a mile away and learn practice it more yourself.
So when you see a classmate who's upset on the playground, and you go over to comfort them, you show character.
When you stand up for a child being bullied, especially someone who isn't your friend, you show character.
When you and another child get in a fight, and you admit to your teacher that yes, you did pinch them, and you'll accept the consequences for your behavior, you show character.
When you agree to be PE partners with someone who's slower and less athletic than you, and you encourage them and cheer them on, you show character.
When you look out for the younger kids around you, and take a genuine interest in their life, you show character.
When someone walking in front of you drops money from their backpack, and your friend tells you to take it, but you hand that money back to them instead, you show character.
When you use good manners and show respect to adults and peers, holding the door open for others and listening when they talk, you show character.
When you congratulate a friend for making a team that you did not make, you show character.
When you stand up against injustices…and apologize for your mistakes…and show compassion toward anyone who's being shunned, ignored, or ridiculed, you show character.
When you work hard and don't complain, and keep a positive attitude while everyone around you gripes, you show character.
When you wake up each morning asking yourself, "What can I do for this world?" and not "What can this world do for me?" you show character.
Winning is great, and my hope and prayer is that all of you in this room experience the joy of winning many times as you grow up. But most of all, I pray you'll all be winners at life, and that you'll take these lessons in character being instilled in you now and cling to them even when the world begins to tell you that it's okay to cheat, lie, or use people to get ahead. Because these things are not okay, and while they may bring temporary success, they won't bring joy or inner peace.
Who you are matters more than anything you achieve or accomplish. And if you want a life of excellence, the place to start is with character. Because in the long run, it's the kids with character who rise high and become true champions. It's the kids with character who become the leaders others want to follow.
********************************************************************************************************************
Thank you for being here today, and for taking time to read my work.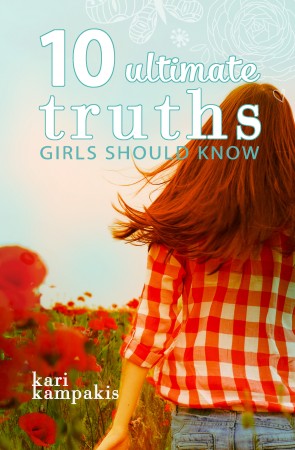 If you enjoyed this message on character, please share it through the social media below.
I'm grateful for my readers and would love to connect. You can subscribe to my blog, join my FACEBOOK COMMUNITY, or find me on TWITTER, INSTAGRAM, or PINTEREST. 
Also, my debut book from Thomas Nelson is now available! Written for teen and tween girls ages 12-16, 10 Ultimate Truths Girls Should Know can be ordered online at Amazon, Barnes and Noble, Books-A-Million, and Christianbook.com and everywhere books are sold. So far the response has been amazing, as girls are reading #10Truths cover-to-cover and talking it up with friends. If you need a Christmas gift or stocking stuffer for that special girl in your life, I'd be honored if you'd consider it. Thanks in advance for your support and help in spreading the word!

Posted by Kari on December 14, 2014 at 6:54 pm