Today's post is written by a special friend who can articulate the painful truths we all wrestle with but are scared to admit. Known to the world as Hands Free Mama, I know her simply as Rachel, an incredibly kind, beautiful, and compassionate soul who lives out her message of love and offers a soft place to land to those who know her.
Rachel's newest book – Only Love Today – releases March 7. I highly recommend it for moms and daughters, as even my 7-year-old has been captivated by her words of hope, love, grace. Today's post offers some backstory on Only Love Today and how these words helped Rachel silence her inner critic. It's one we can all relate to, a story that reaffirms our value despite our imperfections.
Thank you, Rachel, for sharing this vital message!
*************************************************************************************************
She'd asked me to get in the bathroom stall with her while she put on the swim suit she'd been given to wear to the meet. I hesitated. The stall was exceptionally small and the air conditioning in the building was broken. But there was a pleading in my child's eyes that looked hauntingly familiar, so I accompanied her.
My daughter immediately asked me to turn away. I crammed myself into the corner. The bathroom door hinge was two inches from my nose. I was already sweating, and I wasn't the one wrestling with a fierce duo of nylon and spandex.
I had a bad feeling about this.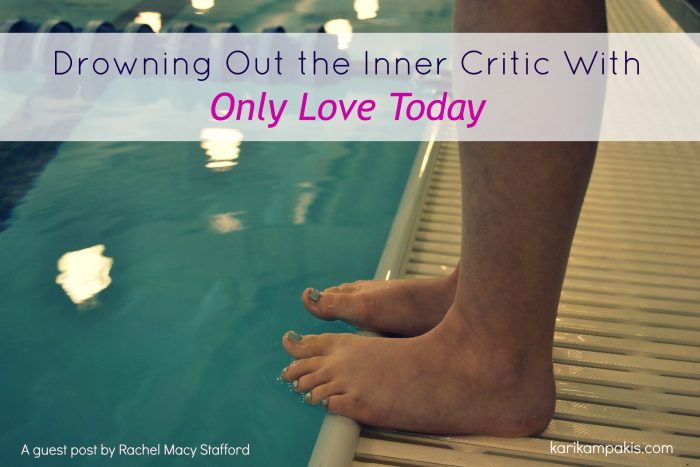 Behind me there was grunting, wiggling, pulling, stretching. There was a tremendous amount of exhausting effort going on back there. I could feel the frustration radiating from my child through the back of my shirt.
"Everything okay?" I asked with a cringe.
"I.Can't.Get.It.On!" my child burst out.
"Would you like me to help?" I asked. "I'd be happy to help," I repeated, desperately hoping to improve the dismal situation.
After a few more grunts and sighs, my child accepted my offer.
"But close your eyes, Mama," she instructed.