As the mom of four daughters, I believe in teaching girls what a healthy body image is. This means having conversations to counter the lies and pressures of the world and help girls see the truth when they look in the mirror. I'm honored to have Emily Wierenga, author of Atlas Girl and the upcoming book Making it Home as a guest blogger discussing why our daughters need healthy dialogue about their bodies with the people who love them most. Emily is an amazing writer with an important message that can empower today's girls and help them discover the beauty of self-love.
 ************************************************************************************************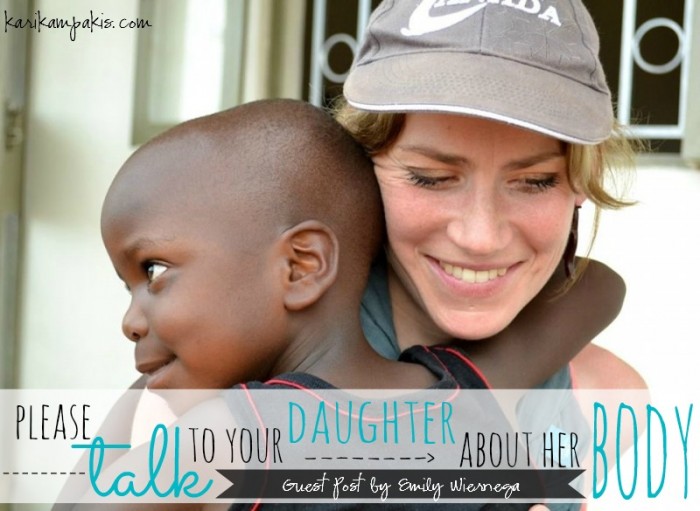 I recently read an article regarding how to talk to your daughter about her body, and it said not to.
It said,
"Don't talk to your daughter about her body, except to teach her how it works.
Don't say anything if she's lost weight. Don't say anything if she's gained weight.
If you think your daughter's body looks amazing, don't say that…
Better yet, compliment her on something that has nothing to do with her body."
I disagree.
If you pretend that your daughter's body doesn't exist, she'll feel like she doesn't exist.

It's not about ignoring our children's looks. It's about helping them to redefine beauty.
I understand why we would want to ignore. I understand that we're scared to mess up our children. We have objectified ourselves. We have become objects of our own hatred or scorn. We are relentless when it comes to our own weight, our own scars and we don't want to hurt our offspring with the same objectification and so we say nothing. 
But saying nothing is not the answer.