A while back, I had a conversation with a beautiful 13-year-old girl in which the name of a popular teenager came up. With starry eyes and her face suddenly aglow, this 13-year-old exclaimed:
"She's so pretty! She's so perfect! I want to be her!!!"
I understood her remark, because I once thought this same way. I once considered perfection the holy grail, the ultimate goal a girl should strive for.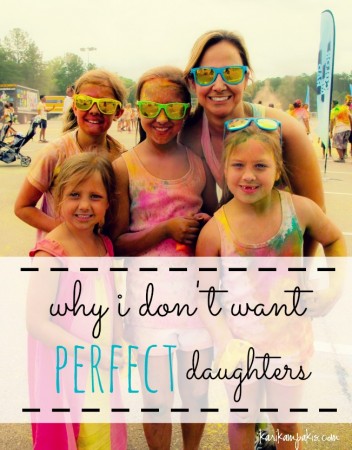 But due to my history in chasing perfectionism, how I still struggle with the mindset at times and now understand the damage it does, her comment put a pit in my stomach.
I wanted to reply, "No! Nobody's perfect! If you believe that about her you'll only be disappointed, and if you make perfection your goal, you're in for a lot of grief," but I didn't. To be honest, all I could think about were the number of times I'd seen teen and tween girls on Instagram use the word "perfect" in their comments:
Your life is perfect! I'm so jealous!!
You have the perfect wardrobe! Can I have your closet?
Your hair looks perfect!
Whoa, perfect body! Can I be you?
OMG! You're perfect!